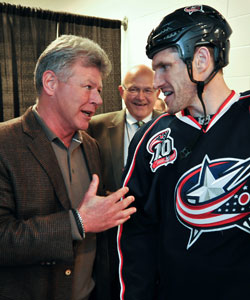 McConnell talks to Chris Clark in 2010. (Getty Images)
Talk about being reactionary.
A couple of days after it was announced that fans of the Blue Jackets were going to rally this Saturday outside of the arena in downtown Columbus for the firing of general manager Scott Howson and team president Mike Preist, the owner of the franchise decided to send out an email.
Majority owner John P. McConnell sent out the message to season-ticket holders, talking them through the tough time, more or less. Matt Wagner of Blue Jackets blog The Cannon just so happens to be a season-ticket holder and was kind enough to share the letter he received.
It has the usual stuff about how important the franchise is to the city, they are just as unhappy as the fans about the lack of success, yadda yadda yadda. But here is the most interesting excerpt for me; if you want to read the whole thing visit the link above.
I understand you want to know what we're going to do to fix this, but it is important for us to maintain a degree of discretion to prevent putting ourselves at a competitive disadvantage. I can tell you action will be taken in the coming weeks and months, be it around the trade deadline, the entry draft and/or free agency that will be indicative of our direction.

Our goal as an organization is to build a team that wins consistently and competes for the Stanley Cup. Anything less is unacceptable! Everything we do in the coming weeks, months and years will be done to that end and everyone in our organization -- myself, management, staff, coaches and players -- will be held to that standard.
I am very thankful and appreciative of the dedication and passion you have shown as a Blue Jackets fan and I am committed to giving you a team of which you can be proud.
I will say this, I'm glad that he clarified action will be taken via trades, free agency or the draft. That's comforting. I was worried they might try and do something through less conventional channels like telepathy or voodoo.
But truth be told, what makes that interesting is that it reiterates that the Jackets will no doubt be a willing seller in the coming weeks. Rumors are still flying that Jeff Carter, acquired just this summer, could be on the move. That's great and all, but it's going to be very difficult to move his 10-year contract. However if they can find a taker, then he might already be gone.
Besides the canned statement in the email, McConnell also talked to Aaron Portzline of the Columbus Dispatch with some more colorful and descriptive quotes.
"Every option you can think of is being considered," McConnell said. "When the 'nuclear' option is mentioned, I cringe less now than I did two months ago. That doesn't mean that's what we're going to do, but it certainly becomes a more realistic choice.

"It has to be pretty clear (by the deadline) which way we're going to go. But one way or another, we are committed to improving. We thought we did this last summer; we didn't, for whatever reason. It's hard to put your finger on it, but we're going to keep searching for the right answers."
He also stated that neither Priest nor Howson are in trouble of losing their jobs, as far as he is aware (considering he's the majority owner, I hope he'd be aware of such a thing).
At this point the writing is on the wall, ceiling and floor that the Blue Jackets are going to be completely unrecognizable by the time next season starts.
For more hockey news, rumors and analysis, follow @EyeOnHockey and @BrianStubitsNHL on Twitter.