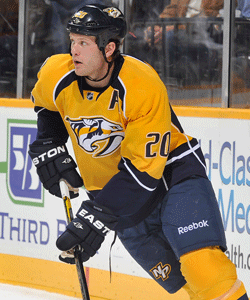 By: Adam Gretz
The most difficult job in the NHL leading up to the trade deadline has to belong to Nashville
Predators
general manager David Poile. He has to decide what to do with one of his franchise players, defenseman
Ryan Suter
, an unrestricted free agent on July 1. He can either hold on to him, make a serious playoff run and hope he can be re-signed before hitting the open market, or he can trade him to the highest bidder to guarantee that he isn't lost for nothing. Suter's words on Friday during his media availability probably didn't help things as he said he doesn't intend to sign a new long-term contract extension before the trade deadline, in part because he wants to see what the Predators do as an organization, and also because, as he put it,
he doesn't want to be a "distraction,"
according to ESPN's Pierre LeBrun.
This can't be encouraging news for Predators fans (
of all ages
).
It's unclear how actually signing a contract would be a distraction for the Predators (the contracts talks themselves might be a distraction. The rumors are a distraction, I imagine), but this is no small decision for Poile and the Predators front office.
Suter, along with his blueline partner
Shea Weber
, an unrestricted free agent himself after next season, is one of the Predators' top-two defensemen, and arguably their best all-around player. If he hits the open market after this season he's going to be the most sought after player available in an otherwise weak free agent class. Not only because he's a No. 1 defenseman and a franchise-type player, but also because he's still only 27 years old. Players that good, at that position, in the prime of their career, don't become available to the highest bidder all that often, and there's going to be no shortage of teams looking to throw large sums of money in his direction.
If the Predators were out of the playoff race this wouldn't be that difficult. If you're a bottom-feeder and confident that he isn't going to re-sign, you put him on the market and trade him for the biggest return you can get.
But that's not the case for Nashville. The Predators are very much in the playoff race, entering the All-Star break holding the No. 5 seed in the Western Conference with 64 points, just one point out of what would be home-ice advantage in the first round of the postseason.
Making any sort of a postseason push without Suter isn't likely (it certainly decreases their chances). But he's also too valuable of a player to risk losing
for nothing
, even though the Predators have some impressive blue line depth coming up through their organization (such as
Ryan Ellis
,
Roman Josi
, Jonathan Blum), as they always seem to do.
This Predators team has been built entirely around the trio of Suter, Weber and goaltender
Pekka Rinne
. All three entered this season eligible to become unrestricted free agents over the next two years. The team already managed to lock up Rinne, signing him to a massive seven-year contract earlier this season, leaving Weber and Suter as unknowns.
Poile has been one of the NHL's better general managers during his run in Nashville, consistently putting a playoff caliber team on the ice with one of the league's lowest payrolls, mainly through a steady pipeline of talent through his minor league system. The same one that's produced players like Suter, Weber and Rinne.
This is going to be his biggest test (and decision) of his career.
Photo: Getty Images
Previously at Eye On Hockey
Predators sign Pekka Rinne for seven years
Toddler's message to Suter: please sign
For more hockey news, rumors and analysis, follow @EyeOnHockey and @agretz on Twitter.