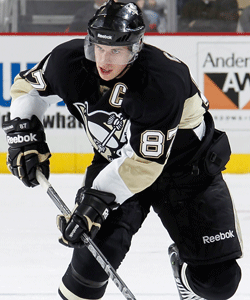 By: Adam Gretz
Sidney Crosby
hasn't appeared in a game for the
Penguins
since December 5, and at this point there is still no timetable for his return. Which is pretty much business as usual. It's been assumed that his current absence has been the result of another concussion, but he was
also reportedly dealing with an injury
to his C1 and C2 vertebrae, according to Bob McCown of Sportsnet 590 the Fan and Elliotte Friedman of CBC.
Said Crosby's agent, Pat Brisson, via Friedman, "Sid did suffer a concussion, but last week, the possibility of two fractured vertebrae (C1 and C2) was discovered. A third doctor is being consulted to determine the exact diagnosis."
The Penguins released the following statement on Saturday night, including that the vertebrae injury has apparently already healed: "The diagnosis of Dr. Robert S. Bray, a neurological spine specialist based in Los Angeles, is that Sidney Crosby had suffered a neck injury in addition to a concussion. Dr. Bray reports that the neck injury is fully healed. Those findings will be evaluated by independent specialists over the next few days. The most important goal all along has been Sidney's return to full health, and we are encouraged that progress continues to be made."
Crosby had been in California this past week visiting Dr. Bray, so this news shouldn't come as a total shock (the fact he was seeing a specialist that deals with the spine, instead of a specialist that deals with concussions, should have been somewhat of a tip), but it does add a few more questions to the mix. Like, how didn't anybody know about this before?
What's interesting is that the injury was originally discovered, according to the Sportsnet report, when Crosby visited a specialist in Utah for an MRI after getting some advice from a friend ... New England Patriots quarterback Tom Brady.
Earlier in the day on Saturday Penguins general manager Ray Shero remained hopeful that Crosby will play again this season.
"We'll see, Hopefully, next week where he is after we get the reports from California," said Shero. "The thing with Sidney is we want to continue to look to see how we can get this under control and manageable ... hopefully we'll have him back here at some point soon."
This latest report may not change that, but it does simply add to what he has been dealing with, while the uncertainty continues to grow.
He appeared in eight games this season, scoring two goals and 10 assists after missing the second half of last season and the first part of this season due to a concussion.
Photo: Getty ImagesFor more hockey news, rumors and analysis, follow @EyeOnHockey and @agretz on Twitter.