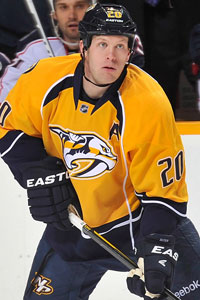 Odds are Suter will stay with the Preds at least through this season. (Getty Images)
Drooling over your team's chances of getting their hands on Ryan Suter at the trade deadline? According to Frank Seravali of the Philadelphia Daily News you shouldn't get your hopes up.
There wasn't much actual news that came out of the All-Star weekend in Ottawa, but that doesn't mean there was none. Suter, the Nashville Predators star defensemen who is in line to become an unrestricted free agent this summer, caused a little bit of a ripple on media day when he said that he didn't want to sign an extension with the Preds before the trade deadline on Feb. 27.
The rationale, which didn't make much sense to me, is that he doesn't want it to be a distraction. I would think signing a new deal -- if that's indeed what he wants to do -- would eliminate the distractions, saying you won't sign before the deadline doesn't do much to quiet things down. Instead, people everywhere start clicking on Cap Geek's trade calculator to figure out how they can make it work.
But it might be a moot point. Sources told Servali that don't expect Preds GM David Poile to move Suter.
"The consensus among us is that Nashville will be hanging onto him, even if they know the odds are not in their favor of re-signing him," one Eastern Conference GM told the Daily News on condition of anonymity. "If he does decide to trade him, [David] Poile has the market cornered. There are very few defensemen of Suter's caliber in the league and Nashville has two of them.

"You have to wonder whether the Predators can continue to trade away their top players for prospects because they can't afford to pay them."
I've been on the limb all season long that I believe the Predators will re-sign all three free agents (Pekka Rinne already taken care of, Shea Weber will be a restricted free agent again) and I think Poile is still believing the same thing.
To answer one of the obvious questions here; why is this coming from Philadelphia? Well the Flyers have been one of the names mentioned with Suter for some time, particularly since Chris Pronger was shut down.
Adding to that intrigue, Suter was paired with Flyers defenseman Kimmo Timonen in the All-Star Game and of course Timonen took the chance to talk to Suter a little bit about Philly.
"He's going to take his time and see what's going to happen," Timonen said. "If he gets the money he wants, obviously he will stay there. You don't know what's going to happen, how much they're going to spend, if they want to keep both of those two guys. He's been there so long, I'd be surprised if he doesn't want to stay there."
The Predators don't historically spend a lot of money, that's why people don't think they'll keep all three. But the reverse side of that is it means they have a lot of money under the cap to spend. With the franchise at the highest level it has ever been at the moment, this is the time to spend the money.
The risk in it all obviously is seeing Suter walk for free. If he goes all the way to the free-agent period without a deal, he will get big-time bucks thrown his way as one of the biggest free agents in years.
That's why it's hard to envy Poile right now. His two star defensemen he needs to sign, Suter and Weber, need to see a team committed to winning. But what better way to do that than re-sign their two best players? It's a catch-22, so the best he can do at this point is take a chance on the team winning this season, and with how the Preds are playing, you like the odds they can make some noise.
The Nashville fans have already seen the team lose one stellar defenseman for nothing in return when Dan Hamhuis left a few seasons ago. Obviously they don't want to see that happen again. I don't think Poile wants it to happen again either, this would clearly signal he thinks they can sign Suter.
More from Eye on Hockey
Suter doesn't plan to sign before trade deadline
Trade Deadline coverage
For more hockey news, rumors and analysis, follow @EyeOnHockey and @BrianStubitsNHL on Twitter.