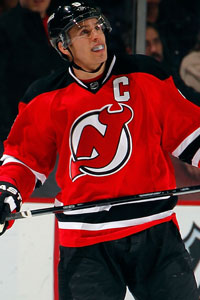 Parise becomes an unrestricted free agent after this season. (Getty Images)
What was looking like one of the better trade deadlines in years in the NHL is shaping up to be a lot less exciting.
According to Mark Everson the New York Post, the Devils are not going to trade their star forward Zach Parise this season. Instead, if they can't sign him before next season they will trade his rights before free agency begins.
He joins Ryan Suter and Tim Gleason as names that seemingly have come off the market in the last couple of days. Suter let it be known at the All-Star Game that he wasn't going to sign an extension in Nashville before the trade deadline.
The Devils didn't actually have anybody at the All-Star Game but they still had some news coming out. Essentially confirming reports of the team's financial troubles, NHL deputy commissioner Bill Daly said the league has been helping the Devils financially but is not propping the franchise up or running it the way it has been the Coyotes.
Naturally the two seem connected, Parise and the financial outlook that is. Parise is still a young star who is going to command a large salary over many years. The timing just isn't good for the Devils as you have to wonder if they could even afford right now to re-sign Parise as much as they'd like to. And you know they'd like to.
But like the Predators and Suter, if they are going to have a good chance to re-sign their star, they need to win this season. Granted for Parise money might play a little bigger factor -- specifically, do they have it? -- but the Devils are in the thick of things for a playoff berth in the East this season. One thing Parise would like to see before re-signing is that he can win in New Jersey.
It's a risk for GM Lou Lamoriello no doubt. But it isn't an incredibly big risk. If the Devils aren't able to find the finances to keep Parise (or he just doesn't want to stay in New Jersey) then there will be a lot of teams trying to get those exclusive negotiating rights. Typically, those kind of deals don't net big returns and I'm not saying Parise would either, but if push comes to shove, the bounty for those rights should be decent to good based on how desirable Parise would be.
His numbers are down a little bit this season with 15 goals and 25 assists, but it was only two years ago that Parise was coming off a 38-goal season, his fourth straight season with more than 30 goals.
For more hockey news, rumors and analysis, follow @EyeOnHockey and @BrianStubitsNHL on Twitter.