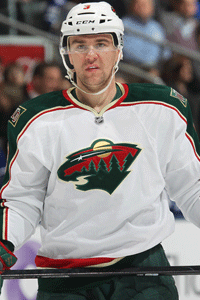 Zidlicky has no goals and 11 assists this season. (Getty Images)
Is the writing on the wall that Marek Zidlicky's time in Minnesota done?
The defenseman has been a scratch in each of the last three games. Mind you, he's healthy. Healthy scratches don't usually sit well with guys who are you used to playing. That's pretty obvious.
Zidlicky is no exception. You know a guy is fired up when he seeks out the reporter, in this case Wild beat writer Michael Russo of the Minneapolis Star Tribune.
"I can't be quiet," Zidlicky began during our sitdown, which you can read more details about in tomorrow's Star Tribune. "I think three games healthy scratch, it's more than just like a healthy scratch. [Yeo's] put me in this position that I am in right now. It's not easy for me. It's good for team probably because the guys played pretty well the last two games, but for me, I did everything what he wants me to do. I played like 17, 18 minutes ice time, I play just third, fourth line, I stood on the blue line, I didn't do anything what I did years before. He said everything I do with the puck and without the puck, it's wrong. So I have a little different opinion."

Zidlicky said that since he doesn't get out with top guys, he spends most his shifts in the defensive zone and "if you spend most time in our zone, you can't do anything. It can be anybody." He said he has tried to tell Yeo twice what's wrong with the power play and who can play the power play, but Yeo told him it wasn't his business.

"He doesn't like what I'm doing," Zidlicky said. "If I'm an offensive player, I'm supposed to play with the top guys. He should show me, 'You are that guy, and you will be out there the last minute when we need to score.' There was a lot of times when I just laid on the bench and just wait for my chance. We had a couple meetings about that after 10, 15 games in the season, and I can't change my style. That's what I know. That's for sure. He wants to play easy hockey. I tried everything what he wants, but apparently it doesn't work."
He went on to say that he hasn't gone as far as to request a trade from the Wild, but he didn't sound like a guy that would be opposed to it either.
As you might expect, his decision to go to the media to vent his frustrations didn't go over very well with Wild head coach Mike Yeo, who took the time to talk to Russo before Tuesday night's game to help defuse the situation.
"One thing for sure, we're going to talk. This is not the right way to handle it. Much the same as I wouldn't want a player to pick up the newspaper one day and read something like, 'Woah, I didn't know the coach thought that.' Like, come into talk to me if there's a problem. There's always more than enough communication from our side. It's got to go both ways."

On not being told the first time he was a healthy scratch the first time? "The lineup was written on the board [before the skate]. I think if anything he's confusing not being told with not being told what you want to hear."

You trying to change him? "One problem for me is when he says I can't change. 1) One it speaks to the buy-in for me, but 2) I don't want him to change. I don't ask Cal Clutterbuck to change. I don't ask Matt Cullen to change. I don't ask Mikko Koivu, Dany Heatley, any of these guys. I haven't asked Marek Zidlicky to change either. I want them to be themselves, to play their game, but to do it within the team concept. That's it. No. 1, that way works, wins hockey games. No. 2, like for a guy like that, I'll point to guys like Kris Letang. He's playing the same way, the same system, same way. Sergei Gonchar, played the same way, same system. It worked for these guys. So, not only would it be beneficial to him, but it would also be beneficial to the team. But it's about buying into it. There are very, very clear expectations for every player. As a team, we knew three years in a row we haven't made the playoffs, so we knew we had to change the culture here. We knew we had to change the environment either. So in order for that to happen, the players No. 1 had to know what was expected of them and No. 2 everybody has to be held accountable. That even means Marek Zidlicky. But with that, like, it also tells me that we're not there yet. I'm willing to do that. I owe that to Craig, to Chuck, to the fans, the players, the players that are out there battling and doing everything they can for each other. I owe it to them. But I will know that we're there when the players start holding themselves accountable to those standards."
Well it sure seems that nobody is quite on the same page here, now does it?
The Wild started this season off so well but have really tumbled since. They are hanging on to the eighth spot in the West and any kind of friction like this can't do much to help.
When you look at Zidlicky as a trade asset, you wonder how much the Wild could get in return. He's just about to turn 35 and this season he has yet to score a goal, recording just 11 assists. For a player who it typically scoring in the 40s in regards to points in a season, that's a massive drop. It's clearly part of the reason why he has been a scratch recently.
In his career, Zidlicky has been his most productive on the power play. Of his 60 career goals, 42 have come on the man advantage, so therein could like some of his value to any team out there. At this point he probably won't be a difference-maker, but perhaps a new locale could help him find his game again.
No matter, things are coming to a head in Minnesota with Zidlicky and the Wild, so you can expect to hear more about him down the line.
For more hockey news, rumors and analysis, follow @EyeOnHockey and @BrianStubitsNHL on Twitter.