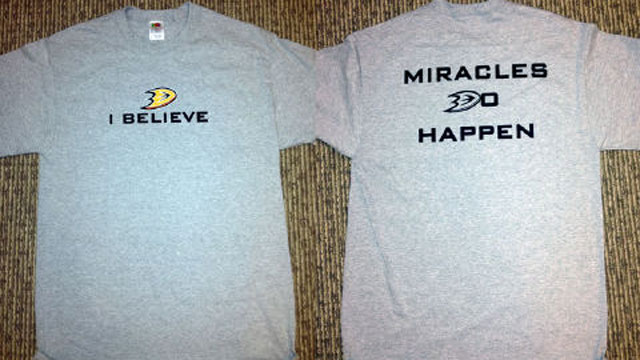 It would certainly be a miracle for Anaheim to make the playoffs. (Twitpic)
The Anaheim Ducks' answer is Yes!
Not long ago, the Ducks were playing so poorly that their general manager Bob Murray first fired well-respected head coach Randy Carlyle then threatened to trade anybody not named Saku Koivu or Teemu Selanne. The most discussed player was Bobby Ryan.
Since then, the Ducks have been one of the hottest teams in the league. They recently went through an 8-1-1 stretch. Still, they are 10 points behind the Minnesota Wild for the last playoff spot with four more teams between them.
You'd have better odds fielding an Olympic hockey team from Brazil than you would the Ducks do of making the playoffs. Too extreme? OK, I'll just go with what Orange County Register columnist Jeff Miller who compared the Ducks' chances of making the playoffs to Ron Paul earning the Republican presidential nomination.
But don't tell the players who, as plainly seen above, still believe.
Don't get your hopes up, fans. Oh sure, you can hope all you want they pull of a miracle down there in Disney land that could inspire the next Mighty Ducks movie. I'm referring to the getting your hands on the shirt. Sorry, it's only for the players. Because, you know, they have to make sure everybody knows they believe, maybe they'll convince themselves it can happen.
For more hockey news, rumors and analysis, follow @EyeOnHockey and @BrianStubitsNHL on Twitter.