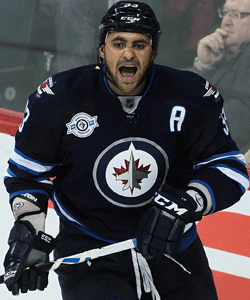 By: Adam Gretz
Believe it or not, but the possibility of the
Winnipeg whiteout
making a return to the NHL playoffs this spring is still alive. For now.
Including their 2-1 overtime win in Tampa Bay on Thursday night, the
Jets
have won just five games since Jan. 1 and for the season have earned just 54 points in the standings, a total that only 10 teams in the league have yet to reach. The amazing thing about that is following their win on Thursday they are just three points out of the top spot in the Southeast Division and what would be a top-three seed in the Eastern Conference due to the current NHL playoff format.
The Washington
Capitals
and Florida
Panthers
have been involved in a back-and-forth race since the start of the season, and on any given night either one of them is in a position to drop from third place to ninth place, as was the case following Wednesday's game in Florida, a game the Panthers won by a 4-2 margin and went from being on the outside of the playoff picture to one of the top spots in the conference.
All of the attention has focussed on them, but quietly -- very quietly, as it turns out -- the Jets have found a way to, shockingly, hang around in the race.
Of course, while the Jets trail the Capitals by just two points and the currently first-place Panthers by three, it needs to be pointed out that those two teams both have games in hand on the Jets. Florida has played three fewer games than Winnipeg, while Washington has played two fewer, so there is an opportunity for them to increase their leads as the schedule balances out. But the Jets are also going to have their own opportunity to continue to close in on them with six games remaining against their divisional rivals, including Friday night in Florida, a game that suddenly has some significance when it comes to the playoff race.
The Jets aren't playing great hockey, but the Panthers and Capitals haven't done anything to run away with the division. Florida has lost 14 of its past 21 games and Washington's offense has all but disappeared since replacing Bruce Boudreau with Dale Hunter.
There is a good chance the division will provide just one playoff team this year, and right now it's a pretty wide open race. The geography and travel may be an issue for the Jets having to play in the Southeast, but the overall mediocrity of it has also given them an increased opportunity to actually make the postseason, something that probably wouldn't exist in any other division.
Photo: Getty ImagesFor more hockey news, rumors and analysis, follow @EyeOnHockey and @agretz on Twitter.