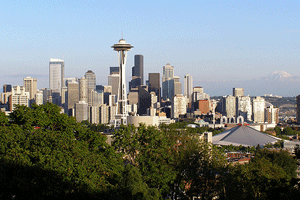 Key Arena (front right) isn't suitable for an NHL franchise.
It seems like we've been talking about this for a decade, but it really feels like the Coyotes situation in is coming to a head, that this will be their last season in the desert if they can't get anything figured out to keep the team where it is in the next two or so months.
Of course you have to answer the question of where would they move before you can think about moving the Coyotes. There has to be a place to play. One of the most-discussed markets is Seattle (along with Quebec City and Kansas City a little bit). But Seattle doesn't have a suitable arena, that's why they lost the SuperSonics in the NBA to Oklahoma City. Key Arena is just too out of date.
There has been a lot of talk about new cites that could host an arena in the area and some potential people to help finance it.
Turns out there's more than talk at this point, there's action from Seattle's end.
According to the Seattle Times a San Francisco hedge-fund manager who grew up in Seattle has been in talks with the city of Seattle about building a new, state-of-the-art arena south of Downtown by CenturyLink Field (NFL's Seahawks and MLS' Sounders) and Safeco Field (MLB's Mariners).
A Dec. 13 agenda for a meeting between the parties shows they were talking about details such as a "Review of Basic Deal Structure," "Financing Issues," including "City Debt Capacity," and "Security for Public Financing."

The documents, released Friday to The Seattle Times under a public-disclosure request, also provide the first glimpse of how the largely unknown hedge-fund manager, 44-year-old Seattle native Christopher Hansen, approached the city about his desire to buy an NBA team and build an arena south of Safeco Field.

In an initial email laying out his vision, Hansen told city officials an arena could be built with minimal impact on taxpayers.
The driving force behind the push for a new arena is so that the city can get the Sonics back, with the Sacramento Kings being the likely target. As part of the agreement of the Sonics vacating the city was that it would retain the rights to the Sonics name and logo should the NBA return to Seattle.
But our concern here isn't with the NBA, it's obviously hockey. The Times article notes that it is believed a hockey team would vastly improve the viability of a new arena and would be pretty crucial to its financial success.
If Seattle can solidify plans for a new arena or even break ground it immediately becomes a viable suitor for an NHL franchise. Key Arena isn't ideal, but it could potentially serve as a temporary home while a new arena is finished. The cavernous Tacoma Dome some 30 miles south of Seattle could also be a possibility, but highly unlikely. As somebody who grew up watching games at the Tacoma Dome, it isn't great for hockey at all, and that was very minor-league hockey.
The NHL has supposedly been fond of Seattle as a host city. It would have a natural rivalry with the Canucks some two-plus hours up I-5, it's a somewhat cold-weather city that does have a hockey history to speak of as well. For years it has been home to the Thunderbirds in the WHL and nearby Everett also hosts a WHL team. Aforementioned Tacoma has also had a couple of teams. Plus, Seattle was the first city in the United States to win the Stanley Cup.
"There are a lot of people who think Seattle would be a great place to have a team. The Pacific Northwest, the natural rivalry with Vancouver, another team in the Pacific time zone ... but there's no building," NHL commissioner Gary Bettman recently told ESPN.com.
As we saw when the Sonics left, getting an arena with public finances in Seattle is a very tough proposition. There is a law in the city that requires any deal the city has regarding an arena has to be profitable for the city. So that's to say things are still a ways off for Seattle and a new arena, but this revelation makes it sound a lot further along than people thought.
For more hockey news, rumors and analysis, follow @EyeOnHockey and @BrianStubitsNHL on Twitter.