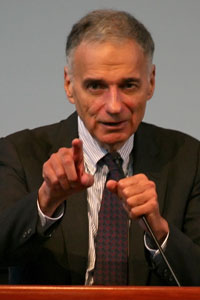 Ralph Nader is talking to you, Commish. (Getty Images)
Hey, remember Ralph Nader? Of course you do, he has run for president a couple of times on the Green Party ballot, garnering 2.74 percent of the popular vote in the 2000 election, decided by the narrowest of margins to George W. Bush.
Well he's a bit of an activist, you see, always has been. He is the founder of a sports activist (for lack of a better term) website called League of Fans. On Monday Nader helped write an open letter to Gary Bettman asking for the abolition of fighting from the NHL.
Really. Ralph Nader talking hockey.
Dear Mr. Bettman:

It's time to act. The National Hockey League must take immediate steps to ban fighting and outlaw all blows to the head. And you, Mr. Bettman, as league commissioner, must lead the way.

Fighting in hockey can no longer be a long-debated issue pitting those who find it barbaric and unsportsmanlike and those who argue that it's an integral part of the fabric of the game. The growing mound of research on sports concussions and brain injuries has taken the fighting issue to an entirely different level. We're talking about short-and-long-term damage to the brain, the very foundation of who we are as people.
Nader's letter goes on to acknowledge the lack of any proof of direct causality between fighting and such brain issues as chronic traumatic encephalopathy (better known as CTE). He also cites the deaths of Derek Boogaard, Wade Belak and Rick Rypien and the possibility that brain trauma played a part on their deaths.
Nader goes on.
Your league has created a department of player safety. That's well and good. But a quick question: How can you continue to allow fighting, in which the primary target is the head of your opponent, and seriously make the argument that you're doing all you can to make player safety a priority?
That's an issue that nobody can seem to answer and is a sticking point in the pro-fighting/anti-headshot stance the league has. It's a bit hard to justify letting guys punch each other's heads while stopping players from hitting each other's heads. It's a bit of a contradiction, to be sure.
In closing, here is what Nader writes.
On behalf of hockey players everywhere – and their families — here's hoping you have the strength and courage to take this decisive step.

Sincerely,

Ralph Nader, Founder, League of Fans
I didn't know that Nader represented hockey players and their families. As a matter of fact, from just about everything I've seen and read, players almost unanimously don't want fighting out of the sport. So asking for the league to do something that they don't want done on their behalf? Doesn't jive with me.
It is and remains a worthwhile cause to discuss in hockey. As long as the sport is played fighting and its place in the game will be debated.
But I'd think Nader has a better chance of moving into the White House than the NHL deciding that his letter was the one to push them to change their stance on fighting.
H/t to All Things Avs
For more hockey news, rumors and analysis, follow @EyeOnHockey and @BrianStubitsNHL on Twitter.