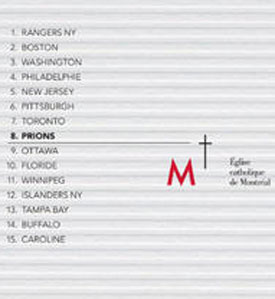 Let us pray for eighth. (Canadian Press)
This is what is has come down to in Montreal, huh? Praying for the Canadiens to turn things around and make the playoffs?
That's what the Catholic Church suggests the fans try. Hey, at this point how could it hurt?
From the Canadian Press via the Toronto Star:
The Catholic Church placed an ad in Montreal newspapers Thursday encouraging people to pray for an eighth-place finish — and a playoff spot — for the Montreal Canadiens.

The ad shows the Eastern Conference standings with every team listed except the Canadiens. In eighth place, the final playoff spot, it simply says, "Let Us Pray."
Of course, this isn't the church suggesting that prayer is really going to help the Canadiens pull off a near-miracle (at least I hope not), it's more of an attention grabber. See it as a chance for some easy advertising, not Tebow-esque intervention prayers.
Faced with declining church attendance rates, the Archdiocese of Montreal is known for its clever collection campaigns, designed by a local ad firm, to solicit funds each year.

Bos advertising agency calls this ad campaign a one-shot deal; the spots appeared in French-language newspapers this morning.

The firm says it has long been considering an ad that combines Quebec's two major religions — Catholicism, and the secular passion of hockey.
Maybe they should start with the small miracles first: Scott Gomez scoring a goal. Bovada released new hockey prop bet odds (just for fun) and they have the odds at 6/1 that Gomez won't score at all this season.
If this season hasn't been a reminder of how tough a city Montreal is to play in when you aren't doing well, I'm not sure what it would take. This is just the latest instance of a gong show-like season for the Habs.
For more hockey news, rumors and analysis, follow @EyeOnHockey and @BrianStubitsNHL on Twitter.