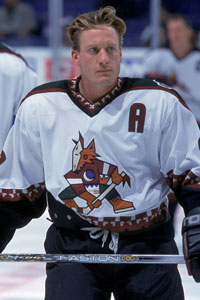 Roenick played six seasons in Arizona, some in this awesome old Picasso jersey. (Getty Images)
Phoenix, you might have your knight in shining armor to save the damsel in distress that is your Coyotes franchise.
As long of a shot as it might sound initially, Jeremy Roenick is considering getting involved in the action to buy the NHL-owned team, one he played on for six seasons spread over two stints. That's what he told Roc and Manuch on Phoenix's 1060 AM The Fan.
"I have been involved with a group that is trying to get into the game," Roenick said when asked why he wasn't involved. "I do have people in New York that are friends of mine that are ready and willing to wait and see. But everything moves at a snail's pace. I have been involved in the background.
"I do have people that are willing to look at it and have to go behind it. But getting involved with the National Hockey League ... you know it's kind of a boy's club. We'll see what happens.
"The team is very, very interesting. If you can somehow find to get ahold of the building with the team then it becomes a different scenario."
The NHL has said that there are two interested buyers with a third suitor lurking too. The first two suitors are believed to be former Sharks CEO Greg Jamison and Chicago businessman Jerry Reinsdorf but neither have been able to gain much traction.
Is J.R.'s involvement tied in with one of those bidders? There is this nugget from the Arizona Republic's Lisa Halverstadt.
Retired center Jeremy "J.R." Roenick said he was approached weeks ago by ex-San Jose Sharks Chief Executive Officer Greg Jamison, who has expressed interest in the team. Roenick has since asked business associates if they would also be interested.
Now that doesn't mean that Roenick has hitched his wagon onto Jamison's train. It could also mean that he was piqued and then sought his own investors, making Roenick the rumored third suitor. That would seem to be the case after Roc from Roc & Manuch reported that he received confirmation that Roenick isn't in Jamison's group.
One thing is for sure, they better get moving a little faster than a snail's pace. There doesn't seem to be a whole lot of time left to get a resolution worked out in Phoenix.
How great would it be for the fans in the desert? Most importantly they would get to keep their team where they are but it would also be kind of cool to be rescued by a former player. He could pull a Mario Lemieux and save the franchise.
UPDATE: Before you get too excited, Roenick tried to dampen the enthusiasm on Friday. "Everyone is blowing this way out of proportion. I have a group that wants to look at it."
For more hockey news, rumors and analysis, follow @EyeOnHockey and @BrianStubitsNHL on Twitter.