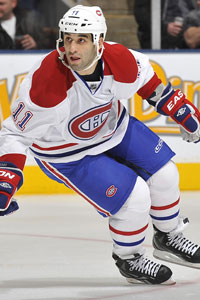 Gomez has a cap hit of $7.3 million per season. (Getty Images)
One of the factors that made Scott Gomez's year-long goal-scoring drought so interesting was his gargantuan contract that carries a cap hit of $7.3 million. Usually a player making that much money scores at least one goal in a span of 365 days (healthy, no less).
That kind of albatross against the Canadiens' cap space has had fans in Montreal dreaming -- or praying? -- for an amnesty clause. Oh if they could just buy out his contract sans a cap hit.
With CBA negotiations on the horizon, though, hope is renewing for Habs fans and others around the league staring at that glaring contract on their roster.
According to Bruce Garrioch, that could be a possibility in the next CBA.
While it's a long way from being reality because there's a negotiation for a CBA ahead, sources say several GMs have asked the NHL to consider a one-time amnesty clause in the next agreement to buy out one contract that wouldn't have a cap hit.
Maybe those prayers are paying off. First Gomez finally scored and now the possibility of an amnesty clause? Things might finally be looking up in Montreal.
More specifically to the Canadiens' situation, Garrioch further explains how big it could be for them.
"The amnesty clause would be a one-time buyout only," said a league source. "It would allow the team to get rid of one contract without having to take the buyout amount on their cap."

With $10 million in actual cash left on Gomez' deal, the Habs would have to buy him out at two-thirds of the contract, which is about $6.67 million. That would be four payments of about $1.67 million per year.

According to capgeek.com, Gomez' cap hit would be $3.5 million (2012-13), $4.5 million (2013-14), $1.6 million (2014-15) and $1.6 million (2015-16).
Who else would be a candidate to be amnestied? Specifically, if you could have any player from your favorite team amnestied, who would it be?
More from Eye on Hockey
Gomez finally ends his goal drought
For more hockey news, rumors and analysis, follow @EyeOnHockey and @BrianStubitsNHL on Twitter.