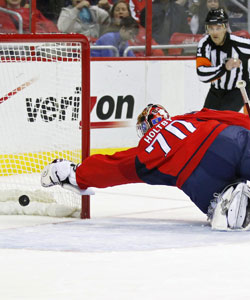 The Caps might be losing their grip on this season. (Getty Images)
WASHINGTON -- This season began with such promise for the Washington Capitals. They beefed up in an attempt to finally get over the Eastern Conference semifinal hump and hopes were high that this was the team.
It is starting to head toward an end of such despair.
Now granted, there is still time -- and a trade deadline to go -- but this team just isn't the contender so many saw. If you want, blame it on the injuries. It's tough for a team to play without its No. 1 center (Nicklas Backstrom) and No. 1 defenseman (Mike Green). But they aren't the only team dealing with injuries. That's not going to garner much sympathy.
But fact of the matter is they are slipping and are running out of games to pick it up. Depending on what happens with the Panthers take on the Senators on Wednesday night, the Caps could find themselves down by as many as six points in the Southeast Division. Adam Gretz already explained pretty well that that's obviously the worst division in hockey. So being six points back of the worst division leader isn't a good sign.
They have been tough to beat at home. Not for the San Jose Sharks, they weren't. Not on Monday night. The Sharks came in after a tough loss in St. Louis 24 hours ago and beat the Caps down, walking away with a 5-3 win (Caps scored a couple late to make it closer). It was Washington's third loss in a row, second at Verizon Center.
"I don't think we are frustrated," Alex Ovechkin said. "One [game] we have to win, but we didn't win. Everybody's trying. I can't say nobody's trying, nobody's playing 100 percent."
This is why things are hitting critical mass. They have been good at home for almost all of the season and pretty dang bad on the road. Washington's next four are on the road starting with Friday's massive game against the Panthers in Florida. That will follow with dates in Tampa Bay, Carolina and Ottawa too. Not exactly Murder's Row but for a team that struggles on the road, anything is tough.
It's not a stretch to say that they probably need six out of the eight points on that trip. They can't afford to fall any further behind Florida or the rest of their Eastern counterparts.
The good news? There is some. Ottawa is falling harder than the Caps right now, not making the bottom of the East out of reach.
It's pretty safe to say that the Caps need to do something at the trade deadline. They will be active no doubt. Tonight in Washington 12 scouts were on hand including two from the Blue Jackets, ex-Ducks coach Randy Carlyle (now a scout for Anaheim) and Canadiens GM Pierre Gauthier. It's worth noting that this weekend in Columbus two Caps scouts were present.
"The determination is there -- I think -- in this room," Matt Hendricks said. "I think the focus is there. The execution just isn't there right now."
This coming road trip is a crucial a stretch as any this season. It really could be the season for the Capitals after their recent swoon.
More from Eye on Hockey
Holtby beaten from center ice
Recap: Sharks 5, Capitals 3
NHL Trade Deadline rumor mill
NHL Playoff Race
For more hockey news, rumors and analysis, follow @EyeOnHockey and @BrianStubitsNHL on Twitter.