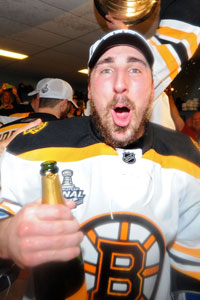 Marchand had a little fun after the B's won the Cup. (Getty Images)
So I know you're going to have a hard time finishing reading this sentence from your high level of shock, but Brad Marchand didn't partake in the Bruins Stanley Cup DVD interviews because he was ... wait for it ... too drunk.
That revelation -- if you want to call it that -- comes courtesy of Sports Illustrated's Michael Farber who recently profiled the pesky player for the Bruins.
Obviously Marchand was happy to give the shirt off his back to win the Stanley Cup, which he did in some widely disseminated photos taken at a team party three nights after Game 7, at Foxwoods Casino in Ledyard, Conn. Marchand was excused from scheduled interviews for the official Stanley Cup DVD because at 4 p.m. the next day he had what the NHL might describe as an inner-body injury. Or as Marchand puts it, he was "intoxicated."

"[After the Cup, linemate Tyler Seguin] and I went on a bit of a tear, partying pretty much every night for a while," Marchand says. "I went home and kinda continued it. I thought [winning a championship] was something that might never happen, so I was trying to take it all in, enjoy it.... My dad sat me down and sorta gave me a lashing. He told me if we win two of the next three years, he'd leave me alone." Marchand's day with the Cup in late August was a demure affair. Says one attendee who has ties to the Bruins, "It was like he was grounded at his own party."
For those that remember that legendary Bruins post-Cup romp back in New England, this doesn't come as a surprise. Heck, even if you don't remember that it shouldn't be a surprise. Two young hockey players (we'll leave out the underage part, we know most people have taken some of those liberties) getting smashed? Heck, just another off day, right? Add in the Stanley Cup celebration on top of it? It's no big deal.
What it does do, though, is add to the legend that is becoming Brad Marchand. From his numerous nicknames including his favorite of Nose Face Killah to timely goals, in-game actions and children's hospital visits it hasn't taken him long at all to give himself a reputation, mixed to be sure.
My question after this bombshell is if Marchand was sober or not when he made his rapping debut? After this Farber story, I sure hope not.
It might also help explain that tattoo flub Marchand had this summer to commemorate the Bruins' big victory.
Also, I'd be remiss if I didn't mention this other little nugget from the Farber story about Marchand's suspension of five games for clipping Sami Salo.
"If Vancouver kept their mouth shut, which they rarely do, I don't think there would have been as much publicity about the hit and don't think there would have been as long a suspension."
Through everything, that Bruins-Canucks rivalry stays alive. It's one of the most intense yet infrequent rivalries I remember seeing.
Yes, Marchand is a character. There can't be any doubt of that after his not even two full seasons in the NHL.
For more hockey news, rumors and analysis, follow @EyeOnHockey and @BrianStubitsNHL on Twitter.