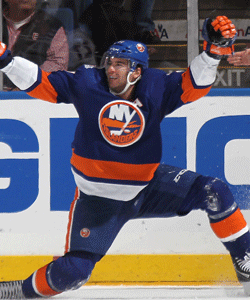 Can the Islanders pull off a miracle run? (Getty Images)

Pucks and Numbers: a weekly statistical look at what's happening around the NHL. This week: A look at the playoff bubble and what the teams on it need to do to make the postseason
By: Adam Gretz
Recent hot streaks by the Montreal
Canadiens
, Anaheim
Ducks
, New York Islanders and Tampa Bay
Lightning
have sparked some playoff hope for their respective fan bases. On the other side, a recent slump that's come in the form of a 9-game losing streak has left some wondering if the Chicago
Blackhawks
could, amazingly, find themselves on the outside of the Western Conference playoff picture when the regular season comes to a close.
Anything is possible, but even though there appears to be a large number of teams that are still "in" the playoff race, the harsh reality is that even a two or three-game deficit (four or six points in the standings) is a lot to overcome. It doesn't seem like it should be, but it is.
A couple of months ago
I looked at how a slow start
is extremely damaging to a teams playoff chances sooner than you might realize, and as the days of the regular season start to fall away those deficits become even more daunting. I mentioned on Twitter earlier this week that since the start of the '05-06 season there have only been two teams that managed to overcome a 5-point deficit this late in the season (the '06-07
Rangers
and the '08-09
Blues
) to qualify for the playoffs.
Ninety-five points is usually a safe bet to get your team into the playoffs, so with that in mind, let's take one more look at what each of the bubble teams will need to do over their remaining games to reach that level. Of course, it is possible for a team to make the playoffs with fewer than 95 points, and that may in fact happen this season, especially in the East, but I'm simply going with the number that tends to be a near automatic playoff berth.
Let's start with the Eastern Conference...
Eastern Conference Playoff Race
Seed
Team
Games Remaining
Pts Needed
Record Needed
7
Ottawa Senators
23
29
13-7-3
8
Toronto Maple Leafs
25
33
15-7-3
9
Washington Capitals
26
34
15-7-4
10
Winnipeg Jets
25
37
17-5-3
11
New York Islanders
26
39
17-4-5
12
Montreal Canadiens
25
40
18-3-4
13
Tampa Bay Lightning
26
41
18-3-5
14
Buffalo Sabres
26
41
18-3-5
Incredibly, Washington and Winnipeg still have an outside shot (at this point, a very outside shot) at winning the Southeast Division, which speaks more to the quality (or lack of it) of the division than anything else, but that hope of a Division title gets smaller with each loss. Once you get past Washington in the No. 9 spot the remaining teams have almost no margin for error.
The Canadiens?
Better start praying
. The Islanders, for example, have been playing some pretty great hockey recently, especially veteran goaltender
Evgeni Nabokov
, but does anybody believe they have a 17-4-5 finish in them?
Even if it only took 90 points to reach the playoffs, they would still need a 15-7-4 finish.
Now, a look at the Western Conference...
Western Conference Playoff Race
Seed
Team
Games Remaining
Pts Needed
Record Needed
6
Chicago Blackhawks
25
30
15-10-0
7
Los Angeles Kings
25
30
15-10-0
8
Phoenix Coyotes
25
32
15-8-2
9
Calgary Flames
25
33
15-7-3
10
Colorado Avalanche
25
35
16-6-3
11
Dallas Stars
26
36
17-7-2
12
Minnesota Wild
26
37
17-6-3
13
Anaheim Ducks
26
40
20-6-0
When you look at in terms of how many games these teams need to win the rest of the way, the playoff races may not be as deep as they appear to be. When you get right down to it, there might only be four teams (Chicago, Los Angeles, Phoenix, Calgary) in the West fighting for three playoff spots.
Minnesota would need to play almost as well as it did in October through December to get back into the top-eight, which shows just how far that team fell over the past month-and-a-half. After 30 games the Wild had the best record in the league. Just 26 games later they're going to need to play like the best team in hockey for the remainder of the season just to have a chance to make the playoffs.
Bruce Boudreau has certainly helped get Anaheim going back in the right direction, but he's going to need to turn water into wine to get Anaheim, as well as its played in recent weeks, into the playofs this season.
For more hockey news, rumors and analysis, follow @EyeOnHockey and @agretz on Twitter.