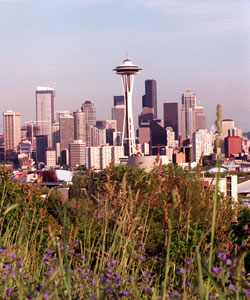 Seattle could get some new sports teams. (Getty Images)
A new arena in Seattle -- and the possibility of a hockey team moving there -- is so close they can smell it.
According to Chris Daniels of King TV in Seattle, the city has called a news conference at City Hall for Thursday at which point they will announce the plans for a new arena to be built on the south side of the city.
Arena News Conference scheduled for tomorrow. I'm told Hedge Fund/Land Owner Chris Hansen is in town. He met with council members.

This would be unprecedented for Seattle. We're potentially talking a BILLION dollar deal, with an arena, and two teams.
The Seattle Times had a little more, getting a quote from Hansen earlier this week.
"We're very close to announcing our offer to the city. That's why I'm here," the 44-year-old hedge-fund manager said on Tuesday.
Well this got interesting fast. Before it was just chatter, the possibility of Seattle getting an NHL team -- and NBA franchise -- was just fun speculation, but it meant nothing without a new arena and considering the troubles Seattle had in the past of getting a new arena built, it seemed like some long odds.
But this, this is a game changer.
There was a sense of urgency to get a deal announced soon, too. The main prize for the city and Hansen, a Seattle native who now lives in San Francisco, is to get the NBA back. The city lost its SuperSonics to Oklahoma City a few years ago. Their eyes are on the Sacramento Kings who have a deadline in March to get a new arena deal worked out.
But on the hockey front, there is also the Phoenix Coyotes situation still unresolved. There is a growing belief that something will have to happen soon and if they don't have a new local buyer, this might be their last season in the desert. The question is where could they move.
Seattle has been a talking point in that regard as a home, but there was no arena. Obviously a new arena wouldn't be ready to host a hockey team for a couple of years if it doesn't yet exist, but the promise of a new arena could be enough for a team to play somewhere temporarily.
There is a hockey history to speak of in Seattle. The Metropolitans were the first American team to ever win the Stanley Cup. But the NHL has been conspicuously absent from the Emerald City. However there are two WHL teams that play in the area, the Seattle Thunderbirds and Everett Silvertips.
Now the talk of hockey in Seattle can get serious after this news tonight.
For more hockey news, rumors and analysis, follow @EyeOnHockey and @BrianStubitsNHL on Twitter.