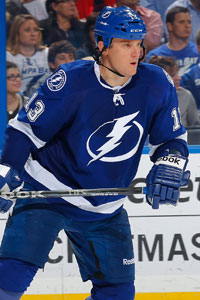 Kubina is being held out while the Bolts decide what to do. (Getty Images)
It took Tampa Bay Lightning general manager Steve Yzerman some time, but he finally hopped off the fence and landed on the side of deadline seller. He held out as long as he could while his team heated up, but it didn't get the Lightning very far in the end.
So now is the time he'll start looking at his assets and moving them along to help restock the shelves in Tampa. What that means for now is that veteran defenseman Pavel Kubina is going to be shelved while the Bolts figure out what to do next.
"In the interim, we've decided to protect our interest and keep Pavel off the ice until this situation is resolved," Yzerman told the Tampa Tribune on Thursday.
Like seemingly half the players available in trade talks, Kubina does have a no-trade clause in his contract that expires after this season. In his case it's a limited one, but a hurdle for the Lightning nonetheless.
"We're making our decisions on a player-by-player and opportunity-by-opportunity basis," Yzerman said. "We see potential opportunity to improve our club with regards to Pavel.
"The broader strategy is we want to be a better team in the future. We want to be a Cup contender at some point, and we're going to have to do some things to become that."
At 34, Kubina is at that point where he's losing a step. Or so it would appear. His numbers are down across the board in recent seasons. This year he has three goals thus far with eight assists.
But he is reliable. Not counting his first season, only once has Kubina failed to play 68 games in a season. He still eats up just about 20 minutes of ice time per game, clocking in at 19:55 this season.
With teams always looking for defensemen, you'd figure Yzerman sees a chance to get a decent return here. A team like Chicago, who is known to be on the prowl for defensive help, could be one interested suitor. A veteran rental like Kubina can often pay off for squads, particularly at defense.
The speculation won't end with Kubina, though, that's just the start. It's probably a matter of time before Dominic Moore and maybe even Ryan Malone are mentioned more.
Ahhh, trade season.
More from Eye on Hockey

Updating NHL Trade Deadline rumor mill
Full 2012 Trade Deadline coverage
For more hockey news, rumors and analysis, follow @EyeOnHockey and @BrianStubitsNHL on Twitter.