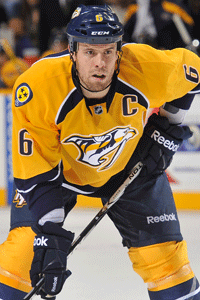 Shea Weber is the exception, not the rule for 2nd round success (Getty Images)
By: Adam Gretz
The most popular piece of currency that gets passed around (or is rumored to be passed around) the NHL this time of year is the second-round draft pick.
On Thursday alone we saw
two deals go down
involving such a pick
when San Jose picked up
Dominic Moore
from the
Lightning
, and the
Flyers
acquired defenseman
Nicklas Grossman
from the Dallas
Stars
.
It's pretty much the going rate for a veteran rental that can provide some depth, and if your team is one of the ones that ends up coming out of the trade deadline season with such a pick, it's probably best to keep your expectations within reason. Because there is a pretty good chance that it will turn out to be nothing. Or next to nothing.
Just taking a random 10-year sampling of NHL drafts, there were over 340 players selected during the second-round between 1995 and 2005. Of those players, 122 of them never played a game in the NHL. Or, in other words, over 35 percent. That, of course, doesn't count the players that
did
appear in the NHL but never established themselves as regulars. There were another 122 players that made an appearance in the league but have played fewer than 100 games.
Add those two groups together and that's roughly 70 percent of the players that were selected in the round over a full decade. Not exactly great odds, especially when you consider that the picks exchanging hands in these situations are more often than not near the middle or back end of the round. Most of the impact players that were chosen during the stretch I selected here (guys like Shea Weber,
James Neal
,
Patrice Bergeron
,
Derek Roy
, just as a few examples) were picked within the first 15 picks of the round.
If you think your team is a contender, the thought of giving up a mid-to-late second-round pick shouldn't be much of a concern or stop you from making the move, which is probably why you see so many of them moved every February.
So why would the team on the other side be so willing to accept it? Well, that's simple. If you have a player like Moore that's set to become a free agent, and you know you're going to lose him in the summer, and you know your team is going nowhere for the remainder of that season, it's better to get an asset that gives you a chance (even if it's as low as 30 percent) of finding a future NHL player than losing an asset for absolutely nothing, which of course gives you a zero percent chance of finding a future player.
Also at Eye On Hockey
Moore traded to
Sharks
Grossman traded to Flyers
NHL Trade tracker
Latest NHL rumors and news
For more hockey news, rumors and analysis, follow @EyeOnHockey and @agretz on Twitter.