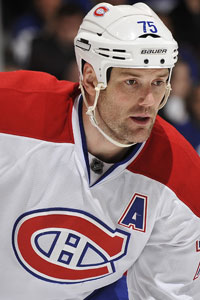 Gill was a member of the Pens' 2008-09 champion team. (Getty Images)
Now the trades are starting to roll in. Took a while.
The Nashville Predators acquired defenseman Hal Gill and a future fifth-round draft pick from the Montreal Canadiens on Friday in exchange for Blake Geoffrion, Robert Slaney and a second-round pick.
Gill has been one of the few names figured to for sure be on the trading block in what has been a pretty quiet trade season so far. A veteran defenseman on a team that's has sunk out of the race who doesn't have a contract after this season? Of course there would be demand for him.
His addition makes the Predators even tougher to attack. With already the best pair of defensemen in the game with Shea Weber and Ryan Suter, Gill brings another strong defensive presence. He comes into a situation that's good for him where he won't be asked to play top pairing minutes. He's only averaged 16:44 per game this season.
"Hal Gill brings our team a number of elements -- size, penalty-killing ability, depth on defense and playoff experience," Preds GM David Poile said. "He has won a Stanley Cup and played a combined 69 playoff games over the last four years, experience that significantly benefits our team."
Interstingly, most have been thinking that the Preds needed to upgrade on offense. But realistically, they needed help on the back end as well. The Preds are actually 11th in the league in goals per game with 2.77, equal to the Rangers and Capitals. Defensively they are again 11th in goals against per game, not where you expect a Barry Trotz team to be.
"We felt that we needed to get some veteran experience," Poille said. "I think with Hal Gill we got everything we were looking for."
Some are going to speculate if this means anything for Suter and/or Weber. Stop that. Gill is 36 with no guarantee of being in Nashville next season. If anything, this only helps Nashville's situation with their top defensemen, it shows a commitment to winning and doing it now. They are buyers in an attempt to go for it.
The return package to Montreal isn't too shabby for a 36-year-old rental player. Of particular interest is Geoffrion going to the Canadiens. Of course that's where his legendary grandfather Bernie "Boom Boom" Geoffrion made his Hall of Fame career. Oh, and his great grandfather was Howie Morenz.
NHL Trade Deadline
More NHL coverage
Talk about a legacy and pressure. Geoffrion goes from playing for his hometown team in Nashville to playing for his grandpa's team in Montreal. That's quite a pill to swallow, as he noted via Twitter.
"Wow..what a day...its bitter sweet, going to miss my hometown of nashville, but going to where it all started with my family...MONTREAL!!!"
It seems like a pretty good deal for the Preds to me. You get a good defenseman to help position the Preds for a deeper run this season and they give up a couple of mid-level prospects and a second-round pick. Geoffrion could still develop into a top-six forward, but so far he hasn't been able to show it for the Preds. In the last two seasons he has 22 games in the NHL with six goals and five assists, only three assists in 22 games this season.
The asking price could be pretty big in return. At first brush it looks like a pretty expensive sell and it could prove to be. But the jury is still out on Geoffrion -- granted, he's 23 -- and Slaney while second-round picks very often don't turn to be that big, as Adam Gretz pointed out today.
But if you want to get something you have to give up something.
"The parity that we have in the NHL right now is as close as it's been ... you have to be willing to pay a price to get what you want," Poile said. And he did.
Let's hear your verdict: You like it?
For more hockey news, rumors and analysis, follow @EyeOnHockey and @BrianStubitsNHL on Twitter.