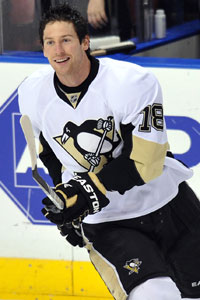 Neal was given a big reason to smile by Pens GM Ray Shero. (US Presswire)
While most teams are busy shoring up their rosters for the remainder of this season with the trade deadline just over a week away, the Pittsburgh Penguins have taken a big step toward shoring up their roster for the next half decade.
The Penguins announced on Sunday morning that they have re-signed breakout forward James Neal to a six-year extension worth $30 million. That's a cool $5 million per season. (As a side note, I just love how the Penguins release this information, it will get out either way, might as well control it.)
"I love everything about what goes on here and how we play the game," Neal said. "I just couldn't see myself anywhere else."
Acquired from the Stars at last year's trade deadline along with Matt Niskanen for Alex Goligosky, Neal has taken his game to a higher level with the Pens. Not to say that he wasn't a good prospect already. By the time this season began, he already had 73 goals before turning 24 years old.
But this season he has already eclipsed his career bests in goals with 30 and points (56) while he's just two away from matching his best assist tally of 28. He was a late fill-in for the All-Star Game roster, his first such honor.
"As we've gotten to know Neal over past year, he really fits with our group," general manager Ray Shero told the team's website. "It's really difficult to find players like this. Neal has size, uncanny release, heavy shot, goes to the net hard, can skate. There's a lot to like even beyond the 30 goals."
I actually really like this deal for the Penguins. Some might think it's a leap of faith to give Neal $5 million amidst his first 30-goal season of his career, but he's been in the mid-to-high 20s in all of his previous seasons and he was still just a pup playing in Dallas. It's not a bold prediction to say Neal is on his way to being a consistent 30-goal scorer.
What it does mean for the Penguins is that they aren't going to have much maneuvering room this summer and next season, as it stands now. According to Cap Geek, the Pens already have $59,566,667 committed to next season's payroll. If the cap were to stay the same -- and who knows with CBA negotiations looming -- that leaves them less than $5 million. Meanwhile, Steve Sullivan, Arron Asham, Richard Park, Cal O'Reilly, Niskanen and Brent Johnson are all free agents of some kind.
But that doesn't mean that I dislike this signing at all. I think it's a very reasonable amount of money for the Penguins, actually. A simple projection out shows this season isn't likely to be a fluke. A $5 million salary for a potential 40-goal scorer is practically a bargain in the NHL these days.
For more hockey news, rumors and analysis, follow @EyeOnHockey and @BrianStubitsNHL on Twitter.