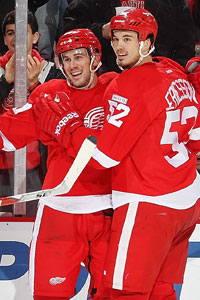 The weekend saw Detroit's home streak go from 21 in a row to 23. (Getty Images)
I took a lot of heat for suggesting last week that the Red Wings' home win streak, as impressive as it is, might be deserving of a little side not in the history books thanks to the shootout.
But even I'll concede now you can forget that. I said if the Wings continued to push out the streak it becomes a non-issue and you are just left in too much awe of what Detroit has done. They've done exactly that.
After failing in their last five regular-season games against the San Jose Sharks, the Wings instead finished off a six-game homestand with another win, a hard-fought 3-2 victory at the Joe. For those counting at home, and I'm sure that's most all of you, that's 23 consecutive home wins, three more than the previous record.
It all underscores a bigger point. Sure, the NHL record is great and all, but that's nothing more than a nice stat to go in the history books. Otherwise it means nothing. However it will mean something if the Red Wings earn the Presidents' Trophy, or at least the top seed in the Western Conference.
You look hard to find holes on this team. At one point you might have said it was the backup goaltending, then Jimmy Howard got hurt, Joey MacDonald was called up and he has proven he is capable of replacing Ty Conklin. More than capable, in fact.
Before the season the hole was glaring on the defense. That's why they brought in some players to help in that regard, although none seemed to be all that significant at the time, at least to me. Oops.
While one of those additions, Mike Commodore, has been sparingly used, you can't say the same for Ian White. Despite pretty solid career numbers, I wasn't too crazy about a guy who played on three different teams last season (Calgary, Carolina and San Jose). Apparently that was a silly worry.
He has been as solid a plug into their blueline group as anybody out there. He chews up more than 23 minutes per game, he contributes some offensively and is on pace to smash his career best plus/minus mark (currently he is plus-29). I know, I know, plus/minus doesn't mean much, but you'd rather have a player who is that far above zero than below it, wouldn't you?
Moreover, they have scoring depth. Who'd a thunk that Drew Miller -- no longer just the brother of Sabres goalie Ryan Miller -- would be on his way to 15 or so goals? He is one of the 10 Red Wings players who are in double digits in goals this season. That means there is little reprieve at any point in a game against the Wings.
More from the weekend
Recaps
Stories
More Eye on Hockey
Obviously you're a good team when you win 23 in a row at home. Clearly no slouch is going to get that done. But the biggest thing about this home streak for me is that it will contribute to them playing a lot more at home. Ironic, I know. But what really matters will be the home games beyond the guaranteed 41.
Philly's problem
This week the Flyers made not one but two trades to get help on the defensive corps. While the help was definitely needed, not a lot is going to get better if the goaltending duo doesn't improve.
A sight that has become all too familiar this season, Ilya Bryzgalov was yanked mid-game after Matt Cooke scored the all-too rare 3-on-5 goal. Sergei Bobrovsky came in and din't perform any better. Eventually it ended in a 6-4 loss for the Flyers to the intrastate rival Penguins.
But evidenced by the downpour of boos from the Wells Fargo Center faithful, this has been a season-long issue for Philadelphia. Heck, it's been a lot longer than this season, but it was supposed to be resolved when they brought in Bryzgalov.
His save percentage has been floating around .900 all season. Right now it's sitting square on that mark, the lowest of his career. His goals against average is up to 2.79. His only worse season was in 2008-09 when he gave up 2.98 per game with the Coyotes.
Needless to say this isn't what the Flyers invested so much into him for. You have to think that with the success the team has had despite the goaltending woes, if either one of the goalies could get it going and start playing up to an acceptable level at minimum, they could make some serious noise in the playoffs.
You just wonder if that's possible at this point, if it's in either goalie with the current situation, from the defense in front of them to the coaching. It's a conversation that continues to linger around the Flyers.
Just check out what the Flyers had to say, including Bryzgalov after Saturday's loss.
Hockey Day in America
So among all the American players playing on Sunday, who'd a thunk that Paul Gaustad would be the first to score on Sunday's Hockey Day in America?
Assuming you don't count Canadian-born Jason Pominville even though he does play for the American natonal team as a dual-citizen, it was his Sabres teammate that scored the first goal by an American. He barely beat Drew Miller in Detroit for that honor.
It was part of a rare breakout for the Sabres. It's been a big struggle for them this season in Buffalo, but they brought out the scoring sticks and pounded the Penguins 6-2. In the grand scheme of things it doesn't do much for Buffalo who is too far out of the playoff picture, but it was perhaps a nice audition for Gaustad in this month of the trade deadline.
He's not going to be as sought after as a lot of the other players, but some team seeking grit and toughness with a side of skill, Gaustad could fit somewhere. Just go back and watch his work on Evgeni Malkin on Sunday to get a sense of that.
Unlucky break of the weekend
Speaking of Hockey Day in America, one of the other big games of the day was the St. Louis Blues visiting the Chicago Blackhawks. It was also a big matchup in the Central Division as well.
As is the case with every Blues game, it was a low-scoring affair that turned with one bad break. This one going against the Blues.
The game-winning goal for the Blackhawks technically went to Dave Bolland, but if they could, it should have gone to the Blues' David Backes, who was in the wrong place at the wrong time. The centering pass shot off of Backes and he couldn't stop the puck from going in the net in time. The 'Hawks eventually potted an empty-netter for their third straight win after the nine-game skid.
Vancouver love
This year's NHLPA players poll voted the Vancouver Canucks as the league's most overrated team. Don't think I'd agree at all in calling them overrated. They were one game from winning the Cup last season and as we all know, only one team can win the Cup each season. I mean the Canucks have won the games to put them in the positions they've been in each postseason, it's not like it's a fabrication, they earned those points.
In fact, I'd say that this team doesn't get enough credit, at least in the States. They seem to be in the news a bit, but not often for their play. Yet all they do is win as DJ Khaled so eloquently said. This is the team that could take away from that Red Wings home-ice advantage in the West this postseason.
That's because they extended their points streak to 12 games after beating down the Toronto Maple Leafs 6-2 on Saturday in Vancouver. They are 9-0-3 in that time. They became the second team behind the Wings to reach the 80-point plateau.
Perhaps that overrated label has come from the fact that we expect this now. It might also explain why they are winning so quietly. Or maybe it has been the large amount of overtime and shootout wins, especially lately. But no matter the reason, people should probably pay attention.
Just can't Capitalize
Every time you think the Washington Capitals are going to get it going after a big and impressive win, they fall flat. It happened again this weekend.
They took two points from the division-leading Panthers on Friday night in a dominating effort, outshooting Florida by a wide margin. So how'd they follow that up? By looking like the Caps we've seen for the most of Dale Hunter's tenure ... being outshot and outchanced for the majority of the game and losing a low-scoring affair to the Lightning 2-1.
It seems every step they take forward they take one step back. It's why the Panthers are still sitting in first place in the Southeast with just 65 points. That's the seventh most in the Eastern Conference yet best in the division.
At some point if the Caps are going to make the playoffs they need to start stringing together a couple of these wins in a row instead of missing these chances.
Quote of the weekend
"I haven't been on a vacation for 15 days," Boudreau said. "This is ridiculous. The East has no idea how lucky they are. And I think every team in the West should start with 10 points before the season starts.
"Eight games and 15 days. And I'm sure Pittsburgh goes through it, too. But when you have a four-game road trip in seven days, you're coming home exhausted. We're at seven days right now and this is just the halfway point in our trip.
"For a guy that's played in the East or coach in the East as well, I don't know how they do it," he said. "I really don't. It's quite a testament to every team in the West's character for not griping as much as I'm doing right now about it.
"You don't even know what hotel room you're getting into. You forget the hotel rooms and everything during the course of the day on this trip. It's pretty Wild. But it is what it is. You can't use it as an excuse and you've got to keep going."
-- Ducks coach Bruce Boudreau on the travelling for his Anaheim team. It was technically said on Thursday, but hey, it's worth pointing out, particularly as the Ducks went from New Jersey on Thursday to Carolina on Friday and Florida on Sunday evening.
For more hockey news, rumors and analysis, follow @EyeOnHockey and @BrianStubitsNHL on Twitter.