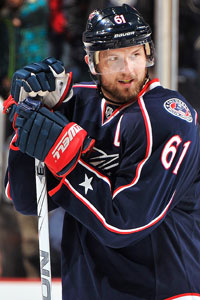 Is Columbus closer to a Nash deal? (Getty Images)
We've not come down to the final week of the NHL's trading season and we've had so little action so far that you'd be forgiven if you mistook the deadline for a Kings game.
The only thing keeping this trade deadline interesting with all the non-action has been the discussion of Rick Nash's future in Columbus, which doesn't seem to be much anymore. That's because this season the Blue Jackets are the only real seller. Every other team is close enough to the playoffs to convince themselves they might still have a shot except for the Oilers, who don't really have many more players they would trade.
That's the price of parity in the NHL. At this point no team in the Eastern Conference is more than seven points out of the playoffs. That's pretty crazy.
So the only real blockbusters waiting to happen out there -- that we know of -- involved Nash or his teammate Jeff Carter.
It's just a matter of time before the Jackets swing a deal or deals. GM Scott Howson says he is getting closer but nothing is pending or anything right now. Here's what he told the Columbus Dispatch.
"We're waiting for the right deals," Howson said. "We're getting closer. But we're not there yet."
According to Bob McKenzie of TSN and the NHL Network, that "right deal" for Nash would involve a high-end player, two elite prospects and a draft pick. No word if the kitchen sink is part of the asking price as well or not.
NHL Trade Deadline
More NHL coverage
Whether or not it happens this week or this summer, it certainly seems like the Nash and Columbus marriage has hit an end.
The trade deadline is also massively important for Kings GM Dean Lombardi, who could see his marriage with Los Angeles end with this trade deadline, too. The Kings need so badly to make a deal for an elite scorer and only Nash and Carter seem to fit that bill right now of available players. The fan base has reached the point of expectation to deliver with high hopes all around entering this season.
It's really not an exaggeration to say that Lombardi's job is on the line with this trade deadline. That's what Helene Elliott of the Los Angeles Times believes.
I'm of the belief that the Kings should take to upgrading the offense this offseason. I don't foresee any addition this season that's going to do any more for the Kings than get them to the playoffs, perhaps. It's not like they will transform into a true contender this season with Nash.
But if Lombardi isn't guaranteed a job, then I get the urgency to do a deal now from his standpoint. Desperate men will do desperate things.
With all of that said, don't expect the trade deadline to remain dull. There will be some deals and McKenzie has the latest on the buzz, including a few teams who are slipping into selling mode and the other hot names of the season.
For more hockey news, rumors and analysis, follow @EyeOnHockey and @BrianStubitsNHL on Twitter.