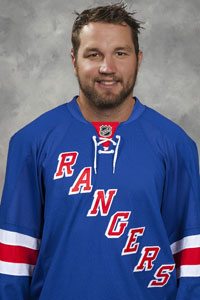 What Nash would look like in a Blueshirt.
In the days leading up to the trade deadline (Monday, Feb. 27) we're going to keep tabs on the biggest name on the block, Columbus Blue Jackets star and captain Rick Nash.
The list of teams rumored to be in on Nash isn't incredibly long and it's the usual suspects that you'd expect to be in on a big-name, high-priced star like Nash. His wish list -- put into song so wonderfully -- was supposedly five teams long with possible Wild cards in the mix too.
We're going to take a look at each of the rumored wish-list teams and how Nash would fit, starting today with the New York Rangers.
From the moment the Jackets said they'd entertain offers for Nash, the Rangers jumped to the front of the pack as a favorite to land him. With a team on its way to its best season since winning the Cup almost two decades ago lacking just a little in the scoring department and a rich farm system, Broadway seems like an ideal situation.
But you're left wondering why. Why would the Rangers want to risk what they have going for them by bringing in Nash? They already have the best points percentage in the NHL, obviously they are doing something right.
It seems to me that you're flirting with disaster by mixing up the formula. That's especially the case if it requires losing some assets that are currently on the team, going beyond the prospects.
Usually this time of year everybody is enthralled with adding a star to their team, consequences be damned. The fans schmooze them on the Internet and in some cases Twitter, they serenade them with chants and creative signs when they visit. Then dismiss and even trash the player when they don't end up coming to their team. It's the way fandom goes these days.
NHL Trade Deadline
More NHL coverage
Not like this is the first time we've said this, but the Rangers fans are different. They had the chance to warm Nash to MSG this week. Instead of serenading him they pretty much insulted him, chanting "We don't want you!" throughout the game.
Now Rangers fans haven't always been the best at making personnel decisions for their team. They were advocating Sean Avery playing earlier this season. But in this case I think they're on to something.
Would the Rangers and their fans like to have Nash? Of course they would. But should they be willing to pay the price (both in terms of the trade return and the salary) to get Nash? The fans have made their side clear, the brass hasn't yet.
The decision becomes a lot easier for GM Glen Sather and crew if the Jackets are insistent on getting Michael Del Zotto in a deal. In his third year in the league, Del Zotto is growing into one very good defenseman for the Blueshirts. With seven goals and 25 assists, he's 10 points clear of any other Rangers defenseman this season in scoring.
It's believed that any deal for Nash would cost the Rangers somebody like Del Zotto plus perhaps a Derek Stepan, elite prospect Chris Kreider and a draft pick. Brandon Dubinsky's name has also floated around.
In return they get an upgrade to their scoring this season, assuming he'd fit in well. As Brad Richards has shown, there's no guarantee they will get the same kind of production if he moves to the Rangers. Of course he could give better production too.
But with the asking price so high, the risk seems to outweigh the reward. Do people really feel that the Rangers as presently constructed couldn't compete for the Stanley Cup? I know I don't. The risk of bringing in Nash is to lose that contender status while the reward is that they're a Stanley Cup contender. Hmm.
If I'm Slatts, I think I'd pass. If it ain't broke ...
More from Eye on Hockey
Latest on Nash, other deadline rumors
Nash down to five teams?
Nash not untouchable for Columbus
For more hockey news, rumors and analysis, follow @EyeOnHockey and @BrianStubitsNHL on Twitter.