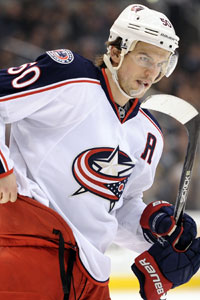 Vermette had been with the Jackets since being traded from Ottawa in 2009. (Getty Images)
The Blue Jackets fire sale has begun with the trading of center Antoine Vermette to the Phoenix Coyotes. Bob McKenzie of TSN broke the news of the deal.
Aaron Portzline of the Columbus Dispatch reports that the return to Columbus is a second-round draft pick, a fifth-round (possibly fourth) and a goalie too in Curtis McElhinney.
Columbus GM Scott Howson told the Dispatch on Tuesday that the team was getting closer to a deal. No kidding.
The Coyotes get themselves a good center who had hit a rough spot in Columbus this season. He has just eight goals and 19 assists this season but it was only two years ago that he scored 27 goals while recording 38 assists for the Jackets. There isn't any reason to think a change of scenery and the jolt of joining a playoff race could spark him back to those bigger offensive numbers.
"We are extremely pleased to acquire Antoine," Coyotes GM Don Maloney said. "He is a smart, skilled, two-way center who will be a great addition to our lineup."
What makes the deal a bit more interesting for Phoenix is that Vermette, 29, isn't a rental player at all. In fact, he's kind of pricey, and for a team that is being run by the NHL, you don't necessarily expect that. Vermette still has three years left on his contract after this for $3.75 million per season.
NHL Trade Deadline
More NHL coverage
It also makes it very clear that the Coyotes believe this recent hot streak of theirs can last. They have won eight of nine and vaulted into a tie with the Sharks in the Pacific Division. Now they want to make sure it can last and acquire Vermette to help.
Really, it's another shrewd move for one of the better GMs in the game, Maloney. Considering the high prices that players have been going for or rumored to be going for, this is a reasonable price for Vermette. The fifth-round in the draft can often just be a crap-shoot and the second round surprisingly can be too, as Adam Gretz detailed.
The Jackets get those two draft picks but also get McElhinney, an AHL goalie for the Coyotes who has spent some time in the NHL. Spanning five seasons, McElhinney has played 69 career games with a career save percentage of .899 and a 3.10 goals against average. Not a whole lot to inspire Columbus fans that he can be their next starting goaltender.
Of course with the season Vermette is having, Howson likely wasn't going to be able to get a big bounty, so in that regard it's not bad. He gets three assets and maybe more importantly gets Vermette's contract off the books as the team looks like it is heading toward scrapping the organization and starting over.
"This gives us more flexibility," Howson told the Dispatch. "It's never fun trading anybody. I don't think any GM enjoys that. But this is about us moving the team forward."
Maloney talked about the trade a little later on Wednesday and sounds like one pretty happy GM.
For more hockey news, rumors and analysis, follow @EyeOnHockey and @BrianStubitsNHL on Twitter.