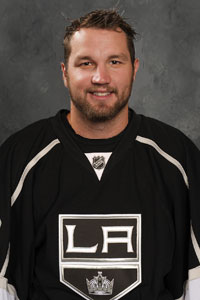 What Nash would look like in L.A.
In the days leading up to the trade deadline (Monday, Feb. 27) we're going to keep tabs on the biggest name on the block, Columbus Blue Jackets star and captain Rick Nash.
The list of teams rumored to be in on Nash isn't incredibly long and it's the usual suspects that you'd expect to be in on a big-name, high-priced star like Nash. His wish list -- put into song so wonderfully -- was supposedly five teams long with possible Wild cards in the mix too.
We're going to take a look at each of the rumored wish-list teams and how Nash would fit, looking today at the Los Angeles Kings.
There aren't a whole lot of certainties in this Rick Nash trade saga. Who's really on the list of teams he'd OK a trade too? Is that list exhaustive? Would anybody actually pay the Blue Jackets' asking price? They go on.
But if there is one thing that we can pretty much say without hesitation it's that no team involved in this conversation -- except for maybe the Blue Jackets themselves -- need Nash more than the Kings. It's been argued that nobody needs to get Nash more than Kings GM Dean Lombardi. His job literally could depend on it.
NHL Trade Deadline
More NHL coverage
The Kings are an embarrassment to offense. Sorry Kings fans to put it so bluntly, but with 2.07 goals per game that's something you already know. The Kings are in the process of letting an exceptional season from goaltender Jonathan Quick go to waste. If they could have given him just a little more offense this season -- I'll be kind and say about half-a-goal more per game, which would put them in the middle of the league -- he'd be firmly in the Vezina conversation.
But they aren't scoring that man. And it's starting to increase the heat in L.A. Before the season this was seen as a team ready to make that jump, possibly compete. By so far falling short of those expectations, Lombardi's leash is getting tight.
In spite of it all, the Kings are still in the playoff picture, holding the eighth spot in the West. The postseason has to be the goal at this point to hopefully try and keep the momentum going. That's why Nash has L.A. hockey fans salivating.
The great thing about possibly going to L.A. is that it would give Nash the centermen he was waiting so long for in Columbus. He finally got one in Jeff Carter this season but injuries didn't allow them to play together for very long before the trade talk started up. But in L.A. he'd have a couple of quality centers in Anze Kopitar and Mike Richards to play alongside.
From L.A.'s perspective the fit is great. It's not just that Nash is a scorer, but he plays on the left wing. The assumption would be he would join Kopitar and Dustin Brown on the No. 1 line which all of a sudden doesn't seem so bad.
But of course it's all easier said than done. Because as we've noted, the Blue Jackets want a lot for Nash, as they should. The package from L.A. to get a deal done has long been rumored to be Jack Johnson, Jonathan Bernier, probably another prospect and a high pick.
As the Nash world turns, the indications are getting stronger that L.A. is a less and less likely landing spot for Nash at this time. There are other options that might pop up like Ales Hemsky or possibly even some of the Sabres. So as nice as he might fit and go a long way toward solving L.A.'s scoring issues, the asking price might prove too much for even a desperate GM like Lombardi.
More from Eye on Hockey
How would Nash fit with Blueshirts?
San Jose stepping into Nash talks?
Update on Nash, other rumors
Nash down to five teams?
Nash not untouchable for Columbus
For more hockey news, rumors and analysis, follow @EyeOnHockey and @BrianStubitsNHL on Twitter.