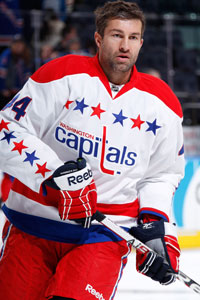 Hamrlik has been statistically much better with Hunter than Boudreau. (Getty Images)
The Washington Capitals are imploding right before our very eyes. It's getting downright nasty in the nation's capital.
The most recent -- but check back in an hour -- development in How the Capitals Turn concerns veteran defenseman Roman Hamrlik. On the same day that rumors started to spread that he was on the trading block, coach Dale Hunter had Hamrlik as a healthy scratch in the team's 5-2 loss to the Senators on Wednesday night.
Before the game Hunter gave his reasoning to the Capitals media, explaining why Hamrlik was joining them in the press box.
"We need him playing better defensively," Hunter said. "He's a defensive defenseman and the way we mark scoring chances [against] he's been involved in too many of them. That's why he was sitting out and that's why [Jeff] Schultz was sitting out before him.

"[Hamrlik] is backing in way too much. He's letting [forwards] come through and they're hitting the second tier. Sitting out is a humbling experience. We all went through it. If you played hockey or any sport you sat out. You've just got to go to practice and work hard like he did today. Watch video and learn from it and when you get the chance play well."
Hamrlik was asked about the words of the coach and the scratch after the team's skate on Thursday and, well, he wasn't very coy. Quotes courtesy of Sky Kerstein of 106.7 the Fan in D.C.
Hamrlik said he hasn't talked to Hunter on why he didn't play, asked why he might not of been in "I don't know, you should ask him. You should ask him [Hunter] about the penalties because when he played I think he [Hunter] make lots of penalties in himself so he should know better.

"I know I take bad penalty, but if that's reason I didn't play, but it's his decision"
Well then. I'm not sure how exactly that compares to Alex Ovechkin's infamous words behind Bruce Boudreau's back earlier this season that many think played a massive role in Boudreau's dismissal, but a player almost challenging a coach publicly? Gee, if Boudreau lost control of the locker room, what does that say for Hunter?
As for the trade rumors, Hamrlik shot down any notion that he wanted out. From CSN Washington:
"Nothing I can do about it. I'm happy to be here and do my job. I don't have control over that. I hope I stay here and make the team better and help them make the playoffs. I don't have reason to leave."
Adding to the drama was Hunter's frank assessment of the play of Tomas Vokoun, who was pulled for the second consecutive game in favor of Michal Neuvirth.
NHL Trade Deadline
More NHL coverage
"Tomas would like a few of them back. He wasn't as sharp as he should've been and it was in the back of our net," the Caps' coach said. "We were playing well and it's one of these things where you get deflated. ... We outchanced them, but we need our goaltending better and Tomas wasn't sharp tonight.
"Just can't get off to a bad start like that. If somebody's not playing as well as they should, you have to block more shots and cover up for him more."
Vokoun's agent Allen Walsh, never shy to stick up for his clients, added a little to the drama in an oh-so-subtle way.
"I'm not going to comment directly on what someone may have said after a game," Walsh said in a text message to the Washington Times. "I will point out though that hockey's great coaches throughout history never resorted to publicly singling out a particular player, blaming him for a loss. Where I come from, you win as a team and lose as a team. The oldest, most tired excuse in the book is to blame the goalie."
But Vokoun didn't add fuel to any fire, saying it's not personal and he'd prefer too that his stats were better.
On top of all of this, Alex Ovechkin is day to day with a lower-body injury and didn't suit up on Wednesday in Ottawa.
When the Caps hired Hunter to replace Boudreau earlier this season it wasn't perfectly clear but it sure sounded like it was for the rest of the season and then they'd go from there. Neither the coach or the franchise knew how the fit would go. It's kind of safe to assume now that Hunter's odds of returning to the OHL London Knights are going up by the day.
By the way, the Caps are still only two points out of the No. 3 seed in the Eastern Conference. Thanks, Southeast Division.
For more hockey news, rumors and analysis, follow @EyeOnHockey and @BrianStubitsNHL on Twitter.