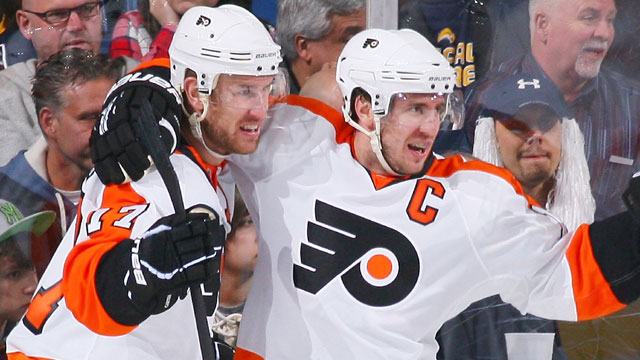 By: Adam Gretz
Between 2005 and 2011
Mike Richards
and
Jeff Carter
were two of the cornerstone pieces of the Philadelphia
Flyers
organization.
They were both drafted by the team in what turned out to be one of the best draft years the NHL has ever seen (2003). They made their debuts during the same season (2005-06). And for the better part of six seasons they were two of the best players in Philadelphia, until they were both traded last summer in separate deals on the same day, with Richards going to the Los Angeles
Kings
and Carter being sent to the Columbus
Blue Jackets
.
On Thursday night, the two were reunited once again in Los Angeles as the Kings continued to do their part to seemingly move the Flyers westward one player at a time.
In the end, it took three separate transactions involving three teams, six players and four draft picks to make it happen. And here is how it all went down.
June 23, 2011:
The Flyers started their massive roster overhaul by trading Carter to Columbus for forward
Jakub Voracek
, Columbus' first-round pick in 2011 (No. 7 overall, which the Flyers eventually used to select
Sean Couturier
), and a third-round pick in 2011 (which the Flyers used to select Nick Cousins).
June 23, 2011:
Not long after Carter was shipped to Columbus, the other shoe dropped in Philadelphia with the bombshell that Richards, their captain, would be sent to the Los Angeles Kings in exchange for forwards
Wayne Simmonds
and
Brayden Schenn
and the Kings second-round pick in 2012.
NHL Trade Deadline
More NHL coverage
February 23, 2012:
The Kings reunited Carter and Richards by sending defenseman
Jack Johnson
and a conditional first-round pick to Columbus in exchange for Carter, just eight months, 39 games and 15 goals after the Blue Jackets acquired him.
When you get right down to it, the Kings traded what amounts to Schenn, Simmonds, Johnson, a second-round draft pick and what very well could be a mid-to-late first-round draft pick for Carter and Richards. That doesn't seem all that outrageous of a price for two big-time, two-way forwards that should be able to provide above average offense and strong defensive play for the foreseeable future. While also being signed long-term (in the case of Carter, very long-term. Through 2022).
Go back one year, Kings fans, and ask yourselves if you would have taken that deal to land both players. It's very possible, if not likely, that none of the players given up will ever be as good as Carter and Richards currently are, and it didn't involve them giving up any of their own franchise players (
Anze Kopitar
,
Drew Doughty
,
Jonathan Quick
,
Dustin Brown
).
Of course, that's not to say things haven't worked out OK for the Flyers, as Simmonds is having a breakout year in Philadelphia and Couturier (acquired as part of the original Carter trade with Columbus) looks as if he has a shot to be a really strong player in the future, already playing a decent role for the Flyers as an 18-year-old rookie.
But the team that appears to come out on the short end of it all is the Blue Jackets.
Over the past eight months Columbus has essentially traded Voracek and the draft picks that turned out to be Couturier and Cousins and come away with only Johnson and the aforementioned draft pick from the Kings (which, again, may be at the back end of the first round). With eight months of Carter thrown in the middle. General manager Scott Howson said on Thursday
he doesn't regret the initial trade for Carter, just that it didn't work out.
And perhaps Carter deserves some (or a lot) of the blame for it not working out better than it did. But at this point, it's hard to look at Columbus and not see a ship that's aimlessly floating around without any real direction.
Also at Eye On Hockey
Carter traded to Kings
Blue Jackets trade Vermette to
Coyotes
Lates Nash Dash: Would he fit with Sharks?
Photo: Getty ImagesFor more hockey news, rumors and analysis, follow @EyeOnHockey and @agretz on Twitter.