By: Adam Gretz
The Battle of Alberta reached new levels of insanity on Friday afternoon when the Calgary
Flames
official Twitter feed sent out a rather interesting tweet regarding some potential contract negotiations between their long-time rivals, the Edmonton
Oilers
, and one of their top players, forward
Ales Hemsky
.
The Flames have since deleted the Tweet, but screen shots never go away. So here we are.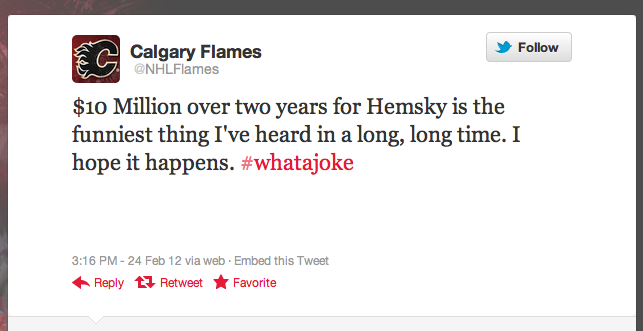 This, of course, was in response to the news that the Oilers were reportedly offering Hemsky a two-year contract extension worth $5 million per season. And again, please keep in mind, this is
the official account of the Calgary Flames
. The team has since sent out an apology that says, "We apologize for a tweet that was sent out from our account inadvertently. We are looking into the matter."
Our best guess is that it was either an attempt at a direct message that was accidentally broadcast to the entire Internet, or somebody thought they were posting on their personal account as opposed to, again,
the official account for an NHL team
(
Update:
The Flames
addressed the Tweet later Friday evening
and confirmed it was meant for a personal account, while also saying they don't condone that, either). Or perhaps somebody was just trying to George Costanza their way into another job.
For more hockey news, rumors and analysis, follow @EyeOnHockey and @agretz on Twitter.