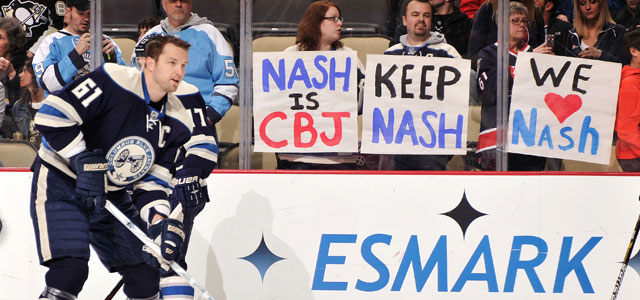 Jackets fans in Pittsburgh make their plea on Sunday. (Getty Images)
By: Adam Gretz
PITTSBURGH -- During the pre-game warmups at the Consol Energy Center on Sunday afternoon, in advance of their 4-2 loss to the
Penguins
, a collection of
Blue Jackets
fans assembled along the glass and made what can only be described as a desperate, hail mary attempt to persuade the Columbus front office to not trade their captain -- and best player --
Rick Nash
.
It's not going to have any impact on what happens over the next 24 hours, of course, but you certainly can't blame them for making the effort.
You also can't blame Nash if he's simply ready for Monday's 3 PM trade deadline, no matter what happens (if anything happens), to come and go, ending what has been three weeks of speculation, rumors and, well, at times complete insanity.
NHL Trade Deadline
More NHL coverage
He had no interest in addressing questions as to whether or not Sunday's loss, a game that saw him score a shorthanded goal in the second period, would be his final one in a Columbus sweater, the only one s ever worn during his first eight-plus years in the NHL.
He offered "no comment" when asked if he agreed with his agents recent statement about it possibly being for the best if a trade is completed sooner rather than later.
And who knows, at this point, even if he won't admit it, it might be for the best if something
does
happen sooner rather than later.
His agent already made it clear that the list of teams that he will accept a trade to will not grow in the offseason, so the list of potential trade partners for Columbus isn't going to change.
The Blue Jackets, owners of the worst record in the NHL through the first five months of a season that, at its best, can only be described as a complete disappointment, are already in what appears to be an everything-must-go fire sale mode. Over the past week alone the team has traded forwards
Antoine Vermette
(to Phoenix) and
Jeff Carter
(to Los Angeles), seemingly selling them off at their lowest possible value, perhaps before they had to, blowing up the ship in a season that has been crushed by inconsistent (or just plain bad) goaltending, injuries, and performances that have fallen below expectations.
At this point it's hard to imagine the Blue Jackets, Nash or no Nash, making much of a push next season especially in a division that already houses some of the best teams in the NHL (Detroit, Chicago, Nashville, St. Louis), which would just be another year in what has been a never-ending cycle for Nash and the Jackets.
Through it all, he has certainly been a patient man over the past nine years in Columbus, easily the best player in franchise history and one of the few consistent bright spots for a team that has made the postseason just one time in its existence.
It's still not known what's going to happen before Monday, but everybody involved has taken pretty much the same approach as the waiting game continues -- for now, he's still a Blue Jacket.
"It's been a great time living in Columbus," said Nash on Sunday. "I'm a Blue Jacket today and we're going to do everything we can to move forward as a team. Like I said the other day, these fans deserve a winning team. They're the ones that have been the most patient."
His head coach, Todd Richards, said pretty much the exact same thing.
"Rick Nash is part of our team," said Richards. "Right now he's a Columbus Blue Jacket. Twenty-four Hours from now that might be a different story but right now he's a Columbus Blue Jacket and you treat him as one of our players."
For as long as he is one of their players, of course.
Photo: Getty ImagesFor more hockey news, rumors and analysis, follow @EyeOnHockey and @agretz on Twitter.