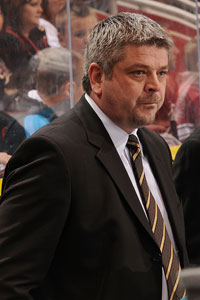 McLellan was apparently responsive after the fall. (Getty Images)
There was a pretty scary moment in the second period of the Sharks' game in Minnesota on Sunday against the Wild. The cameras for FSN Minnesota didn't catch what happened, just everybody on the Sharks bench standing and looking awfully concerned.
Soon after coach Todd McLellan was seen coming to his feet then being helped down the tunnel back to the team's locker room.
The news came from the Sharks PR that McLellan was hit in the head by a stick on the bench accidentally. It might not sound like it, but seems like pretty good news. Of all the possibilities, that seems to be as good as you could have hoped. The Sharks PR said that he was alert and responsive in the locker room.
A little more detail from the Sharks PR.
According to #sharks PR, McLellan got tomahawked by #mnwild player in collision with Jamie McGinn at bench; he's watching gm in coach office

— Michael Russo (@Russostrib) February 27, 2012
The scene was very scary to behold with paramedics coming across the ice with a stretcher in case it was needed. So it was a great sight to see McLellan walking off the bench, even if it was with some assistance.
The Sharks are finishing up a long road trip that has seen them on the road for nine games and about two weeks. The game against the Wild was their last one before finally returning back to California. Especially after this, that plane can't get back to San Jose quick enough for the Sharks.
It's been a rough month or so for NHL coaches. Buffalo's Lindy Ruff suffered a couple of broken ribs at a Sabres practice and has been wearing a flak jacket since on the bench. Edmonton's Tom Renney suffered a concussion when he was hit with a puck.
For more hockey news, rumors and analysis, follow @EyeOnHockey and @BrianStubitsNHL on Twitter.