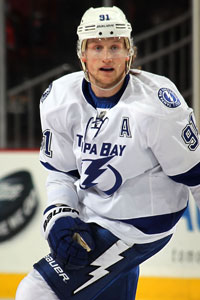 By: Adam Gretz
Pucks and Numbers: a weekly statistical look at what's happening around the NHL. This week: what it's going to take for Steven Stamkos to become the first 60-goal scorer since 2007-08, and whether or not it's even possible.
Steven Stamkos has been the one consistent bright spot for the Tampa Bay
Lightning
this year, and he is currently putting together the most productive goal-scoring season of his young career.
Through Tampa Bay's first 63 games he is leading the league with 44 goals, seven more than Pittsburgh's
Evgeni Malkin
as of Wednesday afternoon. Barring injury he looks to be well on his way to the second 50-goal season of his career, as well as his second Rocket Richard Trophy. (He shared the goal-scoring crown during the 2009-10 season with
Sidney Crosby
, with both players scoring 51 goals).
He has clearly taken over as the NHL's best, and most dangerous goal scoring threat.
But he also has a chance -- a very small chance -- to do something that only one player has done over the past 14 years -- score 60 goals in a single season. It's not going to be easy, of course, and it's probably going to take a great deal of luck along the way, but it's not entirely out of the question, either.
Scoring 50 goals these days is rare enough. Since the NHL came out of the lockout in 2005-06 only 10 different players have scored even 50 goals in a single season (
Alex Ovechkin
has done it four times,
Dany Heatley
and
Ilya Kovalchuk
have done it twice, Stamkos, Crosby,
Jarome Iginla
,
Vincent Lecavalier
,
Jaromir Jagr
and
Corey Perry
have all done it once).
Scoring 60 goals in this era is practically unheard of.
Ovechkin was the last player to reach the mark having scored 65 goals during the 2007-08 season. Before that you have to go all the way back to the 1995-96 season when Mario Lemieux and Jagr scored 69 and 62 goals respectively for the
Penguins
.
With 19 games remaining on the schedule for Tampa Bay, Stamkos needs 16 goals to reach 60 for the season. Twice in his career he's had 19-game stretches where he's scored at least 16 goals, including one such run earlier this season between games 20 and 38 for the Lightning, scoring 16 goals on 61 shots.
His best 19-game stretch came at the start of last season he averaged a goal-per-game over the first 19 games of the season. So it is possible, and he's done it before.
If he were to maintain his current shooting percentage for the season, a career-best 19.9 percent, he would need to generate somewhere in the neighborhood of 80 shots on goal over the final 19 games of the season to score 16 goals. That's a lot. Even worse, if he were to shoot at his career average of 16.8 percent he would need to generate nearly 100 shots in 19 games, which is just over five per game. That's nearly impossible. Especially if you add in the fact that he's already in the middle of a hot streak, having scored seven goals in his past seven games, which would mean he would need to finish the season with 23 goals in 26 games.
One of the biggest reasons we no longer see 60 (or even 50) goal seasons is the same reason goal-scoring as a whole is down across the league -- a declining number of power play opportunities.
Stamkos is at his most lethal to opposing teams when the Lightning are on the man-advantage and his teammates are able to feed him one-timer after one-timer from the circle. With the average NHL team getting just 3.5 power play opportunities per game this season, the lowest average the NHL has seen in over 10 years, and the Lightning actually well below that average at just 3.1 opportunities per game, players just aren't getting as many prime opportunities to put up huge goal totals.
And it's why the 60-goal scorer is nearly extinct in the NHL.
Photo: Getty ImagesFor more hockey news, rumors and analysis, follow @EyeOnHockey and @agretz on Twitter and like us on Facebook.