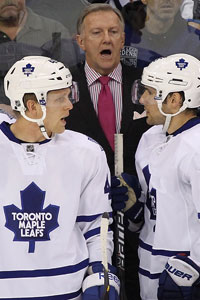 Toronto hasn't been very good lately to put it mildly. (Getty Images)
At one point this season, things were good in Toronto. Really good. General manager Brian Burke and coach Ron Wilson were having some fun with the media it seemed by announcing a new contract extension for Wilson on Christmas Eve.
Now? Not so much. The fans that have actually been patient for years in Toronto began serenading Wilson with "Fire Wilson!" chants at the Air Canada Centre in their most recent home loss, a 5-3 defeat to the Panthers.
"It's frustrating, but understandable," Wilson said. "Everybody's frustrated right now."
As good as the month of February was to the Phoenix Coyotes, it was almost as bad to the Maple Leafs. They went 4-9-1 in the month but 1-9-1 in their final 11 games including the current six-game losing streak.
Maybe this better illustrates how tough it has been for them recently. After their Feb. 4 win against the Oilers, the Leafs had a 90.05 percent chance of making the playoffs per Sports Club Stats. As the month of March began? The odds were down to 11.07 percent.
At the heart of the struggles of course has been goaltending, something they hoped was fixed in Toronto with James Reimer's emergence a season ago. Well, he has fallen on rough times too, including being thrown under the bus more or less by Wilson after Toronto's recent 4-2 loss to the Capitals in what was a huge game in the playoff hunt.
"The two goals early in the game were stoppable chances," said Wilson. "They [the Capitals] got saves at one end, we didn't. We dug a hole because of that. And we're kind of always waiting now for something bad to happen. We've got to find a way to get over that.
"You can pull a goalie. I thought tonight I'll call a time out, tell everybody to relax, that we can get out of this hole. Then you start playing tentative hockey. That's what happens. With all the other stuff that bubbles around at the outside like trade deadlines, those little things that affect players.
"You worry you'll be the one moved. It affects a young team."
It sure would seem Reimer is affected by a lot right now. He has just one win in his last seven starts. He has surrendered a whopping 26 goals in those seven starts, two of which he didn't even finish. And it's not like Jonas Gustavsson has been the knight in shining armor behind him. Let me put it this way: There is a reason why Burke was open before the trade deadline in saying his team was seeking a goaltender via trades. Obviously it didn't happen.
Nothing like a vote of confidence for your goaltenders, eh?
"Yeah, you do get exasperated, and you get frustrated," Wilson said. "But tomorrow's a new day. The sun will probably come up. We've got to pull up our bootstraps and get going."
If they don't, the playoff drought is going to extend into a seventh straight season, pretty remarkable for a market like Toronto with the assets they have at their disposal.
They have already been leaped in the standings by the once-buried Buffalo Sabres and are just one point ahead of the similarly previously dismissed Tampa Bay Lightning. They're currently five points back of that eighth spot they had been holding for some time.
Now they are as close to the East's basement as they are the playoffs. If that isn't saying something, nothing is.
But hey, there is good news, Toronto. The Leafs do actually have their first-round draft pick this summer.
For more hockey news, rumors and analysis, follow @EyeOnHockey and @BrianStubitsNHL on Twitter and like us on Facebook.