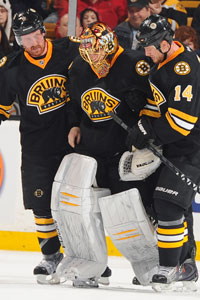 Rask is helped off the ice in Saturday's game vs. the Isles. (Getty Images)
The Boston Bruins announced a tough injury for them to take on Monday, especially at this time of the season. Backup goaltender (backup in title only) Tuukka Rask is going to miss the next 4-6 weeks after he sustained a lower abdomen strain/groin strain.
The Bruins have relied on Rask to carry a decent share of the load to help keep their No. 1 goalie, Tim Thomas, fresh for another playoff run this season. Well in this regard, consider the playoffs starting a few weeks earlier for Boston. It's Timmy Time for the foreseeable future.
The timetable sets up Rask for a return just about the start of the playoffs. It will be interesting to see how the Bruins want to play it when Rask comes back considering the load Thomas is about to carry.
Good thing the Bruins didn't really entertain those suggestions to trade Thomas after that White House fiasco, now isn't it? They'd be in a pretty bad spot right now if they had turned the keys over to Rask already.
The Bruins rely heavily on great play by their goaltenders. It's an important equation to their system. Obviously Thomas is capable of handling that responsibility just fine, he did last year.
A little bit more of the good news in this injury -- hey, just searching for a silver lining -- is the fact that their closest division rivals in the Northeast are also dealing with a goaltender injury, it's just the Senators happen to be without their No. 1 in Craig Anderson.
Rask has been excellent this season for the Bruins with a .929 save percentage and 2.05 goals against average in his 23 starts.
More from Eye on Hockey
Bruins sign veteran goalie Turco
For more hockey news, rumors and analysis, follow @EyeOnHockey and @BrianStubitsNHL on Twitter and like us on Facebook.