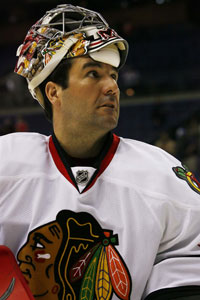 Turco spent 2010-11 in Chicago. (Getty Images)
Not even an hour after the Boston Bruins announced that backup goaltender Tuukka Rask was going to miss the next 4-6 weeks with an abdomen strain/groin strain, they found their new (and temporary) backup by signing veteran Marty Turco.
Turco, who most recently played in the NHL with the Blackhawks last season, has spent time this year playing in Austria's First Division. In six postseason starts, he had a 3.16 GAA and .911 save percentage.
Pierre LeBrun of ESPN.com reports that it won't cost the Bruins much, the deal is just for one year and will cost $600,000, pro rated of course.
Before we get too far, it's important to note that Turco has to clear waivers before anything else. Remember last year the Red Wings signed Evgeni Nabokov from Russia but the Islanders claimed him and he never made it to Detroit.
So that's the big question here. Will any team claim Turco and now allow him to join the Bruins? Just throwing it out there but what about the Tampa Bay Lightning? Dwayne Roloson has been usurped by Mathieu Garon and hardly plays any more. They are right in the thick of things in the East again. I could also see an argument for the Senators making a claim seeing as how they are chasing the Bruins in the Northeast right now and Alex Auld hasn't inspired a lot of confidence either.
Further, even if he does make it through waivers and ends up with the Bruins, he won't be eligible to play in the playoffs. The waiver deadline for playoff additions was last week.
Last season with the Blackhawks Turco was 11-11-3 with a 3.02 goals against average and save percentage of .897. He didn't have any offers from the NHL at the time so headed to Europe.
Turco was in Boston last year for the Stanley Cup Final, as an analyst on the NHL Network's coverage.
More from Eye on Hockey
Bruins annouce Rask out 4-6 weeks
For more hockey news, rumors and analysis, follow @EyeOnHockey and @BrianStubitsNHL on Twitter and like us on Facebook.