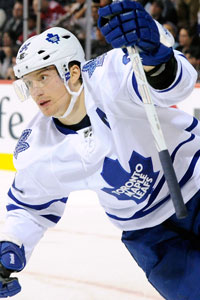 Grabovski has 20 goals this season for Toronto. (Getty Images)
The Toronto Maple Leafs have re-signed center Mikhail Grabovski to a five-year contract, ensuring that their talented centerman won't hit the free-agent market this summer.
The cost? Well it's going to be a little expensive for the Leafs.
Grabovski's deal is for $27.5-million over five years, or a cap hit of $5.5-million. Puts him bit higher than likes of Plekanec, Krejci, etc

— James Mirtle (@mirtle) March 6, 2012
There hasn't been a whole lot of good news coming out of Toronto recently, so consider Tuesday morning's break to be a relief. The team has lost its grip on the playoff position it held for so long, head coach Ron Wilson was just fired and GM Brian Burke has continued to be Brian Burke, making news for something every other day.
This bit of newsmaking is good, though. Very good. Grabovski's name was floated a bit at the trade deadline since he wasn't under contract for next season. But in an interesting phone interview with TSN's James Duthie on deadline day, Burke expressed interest although not a whole ton of optimism they would sign Grabovski. Either way he wasn't going to be traded.
"We are extremely pleased to have Mikhail under contract for the next five seasons," Burke said in the team's release. "His speed and skill are valuable commodities and fit perfectly with our style of play. He leads by example and his work ethic speaks for itself."
Grabovski is technically the No. 2 center for the Leafs but many would argue he's the best centerman on the team. He helps give Toronto a solid second line. This season he has 20 goals and 25 assists to follow up his 29-29=58 of last season.
The price tag, as you might expect, comes in a little high. But compare it to other recent signings such as Ales Hemsky in Edmonton and it shouldn't be a total shock. Grabovski is a legit top-six centerman and people all across hockey will tell you that's not easy to find. The Leafs have a good one and they had to make sure they kept him.
I get the sense that I'm in the minority on this one in thinking it's not a bad deal for Toronto. Grabovski will still be just 33 when the deal is done and he should consistently give the Leafs 25-plus goals each season at center.
What do you think, good deal?
For more hockey news, rumors and analysis, follow @EyeOnHockey and @BrianStubitsNHL on Twitter and like us on Facebook.