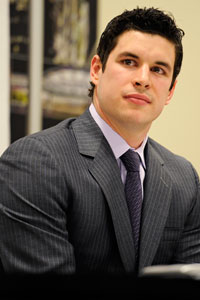 Crosby has two goals and 10 assists in eight games this season. (Getty Images)
Sidney Crosby has one again been cleared for contact and could be returning very soon. How soon? Perhaps as soon as Sunday.
"I'll give myself days with contact," Crosby said. "We have two more practices this week. No sooner than Sunday, I would say, but I'm not going to sit here and put a date on it. It would be total guesswork. I just want to make sure I get through these days fine and that would be a great decision to make if I get to that point.
"The big step is contact. Hopefully, I can do that for a few days and get back out there."
If he does make his return on Sunday it will come against the Boston Bruins -- NBC already has it scheduled to be the national game of the week. The interesting angle there, of course, is that it was against the Bruins that Crosby played his last game.
Crosby has been practicing with his Penguins teammates for a while but there were no updates coming from the Penguins about his status until after the team's skate on Tuesday. That's when Crosby revealed he has been cleared.
You'll remember that Crosby played eight games earlier this season after sitting out for nearly a full year because of a concussion. He returned to the sideline later with what many were assuming was another concussion. It was later discovered that Crosby had a neck issue that was causing many of the problems since its symptoms can be very similar to those of a concussion.
If -- and this remains an If until Crosby is able to return for an extended time -- he is healthy, is there any question that the Penguins will be one of the favorites to win the Stanley Cup? They already have the second best record in the Eastern Conference with Crosby out for all but eight games thus far.
As he showed earlier this season, it shouldn't take long at all for him to get back into top form -- which makes him in my and plenty of other's opinions the best player in the league.
"I've been through this before. Contact is the big step," Crosby said. "It's nice to be symptom free, but it's not as fulfilling until you get out there. I just want to make sure that I take the right steps here and get back out there soon."
It might not be a great day for the rest of the league per se, but it's a great day for hockey.
More from Eye on Hockey
Crosby has 'soft tissue injury'
For more hockey news, rumors and analysis, follow @EyeOnHockey and @BrianStubitsNHL on Twitter and like us on Facebook.