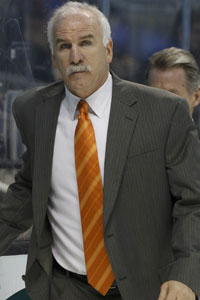 Quenneville led the 'Hawks to the Stanley Cup two seasons ago. (US Presswire)
Times have gotten rough for the Chicago Blackhawks, real rough. Like no wins in their last eight games rough.
It has led to some speculation that head coach Joel Quenneville's job could be in jeopardy. Imagine that, a team that's still in playoff position firing its coach not even two years after winning a Stanley Cup? Hey, sports are a "what have you done for me lately" business and lately Quenneville's team hasn't done much for anybody other than give opponents points.
Well GM Stan Bowman is trying to put an end to it. He came out with that ol' vote of confidence on Monday, from CSN Chicago.
"That's not the concern for me at all. I'm very confident in Joel's ability, our coaching staff's ability. Our players - the effort is there. They're as frustrated as anybody, you can watch it on the ice. It's not working. There's no disputing that, but I don't buy that assertion (that Quenneville's message is lost) at all. These players are on board with us. They believe in this group (of coaches). We're not far. We need to get this turned around, but we're not far from making it work."

When I asked if Joel's "the guy," Bowman responded, "Absolutely."
So, is Quenneville's heat hotter than Hades now? We know how often that vote of confidence goes well for the person they are confident in.
Call me crazy, but this is one of those times where I actually do believe Bowman. Unless the Blackhawks go eight more games without winning, I have a hunch that Quenneville has a job through this season, at the least.
So who should be feeling the heat for this skid, the goaltenders? After all, Ray Emery has a 2.81 goals against average and .901 save percentage ... and his numbers beat starter Corey Crawford (2.99, .898).
Nope, they are safe too, according to Bowman.
"We're not focused on goaltending. We're really not," Bowman said. "I know there's a lot of talk about that, but internally, we have to focus on the guys we have, and turning it around from within."
Does that mean the Blackhawks will be a completely stand pat team at the deadline at the end of this month? Are there no moves for them to make?
Well, it's still likely that they will look to upgrade the defensive corps. It's been an issue all season long and they could use some reinforcements back there. Of course, there are a lot of teams who want to find some quality defensemen and not a whole of them to be found, especially after Andy Sutton just re-signed with the Oilers.
More from Eye on Hockey
For more hockey news, rumors and analysis, follow @EyeOnHockey and @BrianStubitsNHL on Twitter.