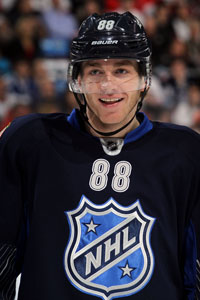 Kane is a three-time All-Star at age 23. (Getty Images)
The Chicago Blackhawks are in one serious tailspin. They have lost nine games in a row. Heck, coach Joel Quenneville and the goaltending duo of Corey Crawford and Ray Emery just got a vote of confidence. That's never a good sign. If a GM has to do that, then you know things aren't going well.
It has people thinking that the Blackhawks need to go out at the trade deadline and find some help for their defense or possibly even the goaltending.
Former Blackhawks star and current NHL analyst Jeremy Roenick is in the group that sees a serious need to upgrade the goaltending. Seriously upgrade the goaltending, as in somebody that would be worth trading Patrick Kane. Seriously.
Check out what J.R. had to say to ESPN Chicago.
"Everybody knows I am a huge Patrick Kane fan, but when you're talking something of this nature, is Patrick Kane dealable? As much as I don't want to say it, they can afford to get rid of Patrick Kane," Roenick said Wednesday on "The Waddle & Silvy Show" on ESPN 1000. "They can afford to -- with the season he's having -- maybe with his off-ice reputation, maybe with the skill they have on their team -- it's doable.

"Do I like it? No, because I love Patrick Kane. He is one of the most talented and one of the best players in the NHL. But if you really want a top-end goaltender you're going to have to give up somebody."
OK, playing along for a minute here, let's pretend that the Blackhawks do consider trading Kane for goaltending. We'll just have some fun here. Who could they get? First team that jumps to mind for me is Vancouver and Cory Schneider, but I just can't see those two teams making a swap like that with their animosity.
In the East the Bruins have two goalies but with Tim Thomas' age, you wouldn't think they'd be keen on getting rid of Tuukka Rask.
What about a favorite trading partner of Chicago lately, the Florida Panthers? They have who many call the best goaltending prospect in the league in Jacob Markstrom and some stellar young defensemen in the organization. Of course Panthers GM Dale Tallon knows Kane well and he is certainly young enough to fit into Tallon's long-term visions.
Even still, from Florida's perspective, I don't know if even Kane would be enough to part with Markstrom.
But that's all suspending our disbelief. It was fun for a few paragraphs but back in reality there's no way the Blackhawks are trading Kane for goaltending right now.
This slump right now in Chicago is bad, but it's not THAT bad.
More from Eye On Hockey
Quenneville, goalies get vote of confidence
Updating NHL Trade Deadline Rumor Mill
For more hockey news, rumors and analysis, follow @EyeOnHockey and @BrianStubitsNHL on Twitter.