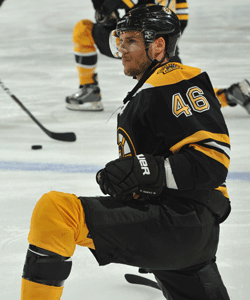 The Boston Bruins announced on Thursday morning that they have re-signed forward David Krejci to a three-year extension. This comes on the heels of the Anaheim Ducks firing head coach Randy Carlyle and replacing him with Bruce Boudreau.
How are these related, you ask? It was only speculation, but in the Bobby Ryan trade rumors, a swap with the Bruins involving Krejci was a popular rumor, so with the Carlyle firing it appears more like Ryan could be staying put. Thus, Krejci is for sure staying put in Boston.
Krejci's cap hit will be $5.25 million for the three seasons of his deal.
The salary on the deal is a bit high. He doesn't exactly scream $5 million-plus player, now does he? Seeing how Krejci hasn't matched his 2008-209 totals of 22 goals and 51 assists since, but he's still only 25 years old.
But I'll give GM Peter Chiarelli a little benefit of the doubt. Theoretically, this new contract extension will carry Krejci through his prime years, of which he is just entering.
Krejci's playoff performances probably helped, too. In 44 career playoff games Krejci has 19 goals and 25 assists, including 12 goals, 11 assists in last season's run to the Stanley Cup.
Chiarelli has done an excellent job building the Bruins for the future in addition to the now. By locking in Krejci for a few more seasons, the B's have the core of their team under contract for next season now. The biggest name unsigned for next season is Tuukka Rask, after that they are looking at Chris Kelly, Gregory Campbell, Benoit Pouliot, Daniel Paille, Shawn Thornton, Joe Corvo and Johnny Boychuk.
On top of it, according to Cap Geek, Chiarelli still has around $11 million to sign any of those players or wait until free agency and pick up some. He really has done a pretty masterful job not only building a Stanley Cup-quality team, but doing it in a financially responsible way. This Krejci deal might not fall completely in line with that, but he is capable of giving the Bruins about 60 points per season, so it's not a bad investment.
Make the grade: What does Chiarelli earn for this signing?
Photo: Getty Images
For more hockey news, rumors and analysis, follow @EyeOnHockey and @BrianStubitsNHL on Twitter.