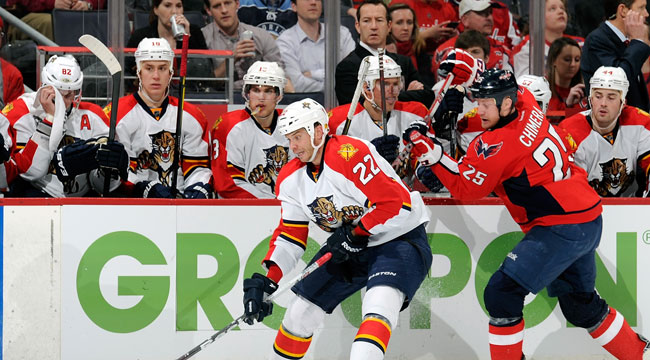 Florida is just one point behind Washington in the Southeast, two behind Ottawa in the East. (Getty Images)
WASHINGTON -- Washington Capitals coach Dale Hunter billed Tuesday's matchup in D.C. with the Florida Panthers as a playoff game.
Imagine that, the Florida Panthers and playoff games? That's something we haven't seen in a decade. At this point it seems as real as the idea of the lost city of Atlantis being not far from the shores of South Florida.
And probably just how you'd imagine it would go if the Panthers were in a playoff game, the Capitals scored just 13 seconds in. That was the beginning of a frustrating night for the Panthers who mustered 42 shots on goal against their former goaltender Tomas Vokoun and still lost 4-0. It restored first place in the Southeast Division to the Caps for the time being and dropped Florida to ninth in the East.
Of course it wasn't really a playoff game. There are still 30 games to go before we even hit the postseason. The whole goal for the Panthers is to get into one of those real playoff games, show South Florida what the Stanley Cup playoffs look like. It's been so long it has forgotten.
The question is, will they get there? There has only been one season in the last decade that the Panthers were even truly in the hunt. In 2008-09 they finished tied with the Montreal Canadiens for eighth in the East but lost on the tie-breakers. Outside of that, they have been clear sellers at the annual trade deadline.
It was just over a month ago the Panthers were cruising toward the playoffs. They were way up in the division and were playing legitimately good hockey. They've slowed down. A lot. Most will likely say it was crashing back to reality.
That could be the case. But it's worth mentioning that it is tough to truly assess this team, it just can't seem to stay healthy. For the last couple of weeks the Panthers have been playing without their No. 1 goaltender Jose Theodore (and No. 3 Jacob Markstrom) while also being down strong defensemen Dmitry Kulikov and Ed Jovanovski. It's understandable to struggle a bit in that situation.
More on the Panthers
Playoff picture
"You always miss guys that are in the lineup on a regular basis. But if you're a good team you have good depth," winger Matt Bradley said. "Strachs [defenseman Tyson Strachan] has done a great job up from the minors. Guys are doing good jobs getting bigger roles. So there's no excuses for guys out."
That's certainly true, there are no excuses. It's not as if they will get a free pass into the playoffs if you miss x amount of games of manpower.
"What are you going to do? I don't think you feel sorry for us and I don't think anybody on that team on the other side of the ice is feeling sorry for us," first-year coach Kevin Dineen said about Florida's two-game skid. "This is NHL hockey, it's the best league in the world. You've got to understand when you take a good tail-kicking you have to accept it, recognize it and be better the next one."
That started with a postgame meeting on Tuesday. The hallway doors were closed before the Panthers even left the ice and the wait was longer than usual for the locker room to open up. It was clear the team had a little chat after its second regulation loss in a row, the first time the Cats have done that since mid-October.
"Kevin was very positive with us," defenseman Brian Campbell said. "We're a team in here, we've got to find ways to get the job done and get it done more successfully on more nights than we are now. It seems like we're around .500 a lot and that's not good enough to get to where we want.
"We've got to stay positive. We stepped up our level. Some nights we're there, some nights we're not. It's these guys in the room. Nobody is going to be coming in to help us. We've got to get this job done in here."
This is new territory for the Panthers organization, being in the thick of a playoff chase. But it's not new for a lot of the players. Remember, GM Dale Tallon rebuilt this roster, there are a handful of guys who not only have experience with playoff races but winning a Stanley Cup, such as Campbell.
When you look at it, the Panthers are still in good shape. The East is whittling down to a nine- or 10-team race (if Winnipeg stays close) for the eight available spots. With the Senators hitting a wall and the Panthers having four games in hand on Ottawa, Florida still isn't in a bad position. But they have to figure things out, and quickly.
"There's urgency obviously within the division, with everyone," Kris Versteeg said. "I think you're going to see that on a nightly basis now. Obviously every team wants to win their division. It's something we want to do."
"It's not about just Washington," Campbell added. "It's about us winning games. If we put together some games and get going here we're going to find ourselves in a playoff spot. But if we don't we're going to be out of it."
One thing that helped launch the Panthers to the top of the Southeast in the first half of the season was their success away from home. They were able to pick up points in bunches while on the road, not easy for even the best teams in hockey to do.
But since their very impressive 2-0 win in Boston on Dec. 8, Florida is just 1-6-4 as the visitor. The difference is made even more clear when you look at what the Panthers have done in their two trips to Washington this season. In 120 minutes of game action thus far, they have been beaten 7-0. Vokoun has stopped all 62 shots he has faced. At home they have outscored the Caps 9-6 in two games.
Getting going on the road again would be a nice way to restart the batteries, give them a jump.
"I don't know. Whether it's line matches or who knows what it is?" Versteeg said. "Sometimes things happen and I'm not sure for whatever reason we've been good at home and not on the road. Obviously you want to be good at home. We've got to find some ways to win on the road, that's for sure."
The scoring for the Panthers has been done largely by the combination of Versteeg, Stephen Weiss and Tomas Fleischmann. Together, the line has accounted for nearly 40 percent of the team's scoring. So when they have tapered off, it's no mystery the team has too.
But don't expect the Panthers to be busy when it comes to the trade deadline, trying to add the missing pieces to bolster their offense. It's important to remember that whatever Florida does now is bonus, it is building for the future. Tallon has built a roster that hopefully can win in the interim before the team is turned over to the younger players that make up arguably the best farm system in hockey now, players like Erik Gudbranson, who are being slowly phased in.
Don't look for them to do anything to disrupt the long-term plan, the blueprint.
In the meantime, Florida gets to experience a playoff race. Those are as rare as snowy days in South Florida. But actually making the playoffs? Well that hasn't been done since Bill Clinton was the president.
Hopefully for Florida's sake Tuesday's loss in D.C. isn't the closest they get to a playoff game this season.
For more hockey news, rumors and analysis, follow @EyeOnHockey and @BrianStubitsNHL on Twitter.