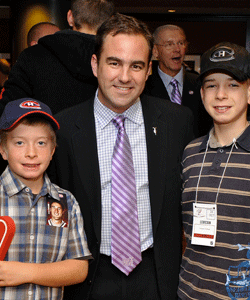 Ah yes, the best way to get a message through is to go after the wallet. As we all know, money talks.
As you already know, a nationalistic group in Quebec wasn't happy with the Montreal Canadiens' decision to fire Jacques Martin and replace him with interim coach Randy Cunneyworth. Their anger has nothing to do with the Habs' poor play and everything to do with Cunneyworth's lack of ability to speak French.
Apparently they don't understand the concept of an "interim" coach, as in a fill-in, a guy keeping the seat warm. Either way, the threat was put out there of a boycott on all Molson products. Of course, Geoff Molson (pictured) is the majority owner of the Habs and his Molson company makes some pretty popular beverages.
The chatter caught his attention (well, I'm sure Molson was already aware of the issue to begin with). Molson released a statement expressing the priorities and concerns for the organization when they hire a full-time coach. Here is a snippet.
"Although our main priority remains to win hockey games and to keep improving as a team, it is obvious that the ability for the head coach to express himself in both French and English will be a very important factor in the selection of the permanent head coach.

"Like all our fans we hope for the Montreal Canadiens to be among the top teams in the NHL and we are doing everything we possibly can to win."
More on Canadiens
Ray Ratto
Storm will die down as Cunneyworth makes Montreal adjustments Read
Everything except hiring a coach that doesn't speak French, of course. That's what I'm led to conclude.
It would seem to exclude Cunneyworth from getting the job full-time if he proves worthy as a coach this season. That's unless he takes some classes in French and shows an effort to speak the local language. It would really be a shame if he didn't get the job primarily for this reason, but that's a long way away.
But with statements like this, it gives the feeling that Cunneyworth is a lame duck. You have to figure that the candidate pool is very limited and you can certainly expect to hear the name Patrick Roy come up a lot, as well as one-time Quebec Nordiques coach Marc Crawford. Funny enough, Crawford didn't speak French when he was hired in Quebec, but he learned. Of course it wasn't much help when the 'Diques moved to Colorado the next season.
But man it would be so delicious to see Roy come back to the Canadiens bench. Could he really complain if a player took exception to his managing and demanded a trade?
Photo: Getty Images
For more hockey news, rumors and analysis, follow @EyeOnHockey and @BrianStubitsNHL on Twitter.