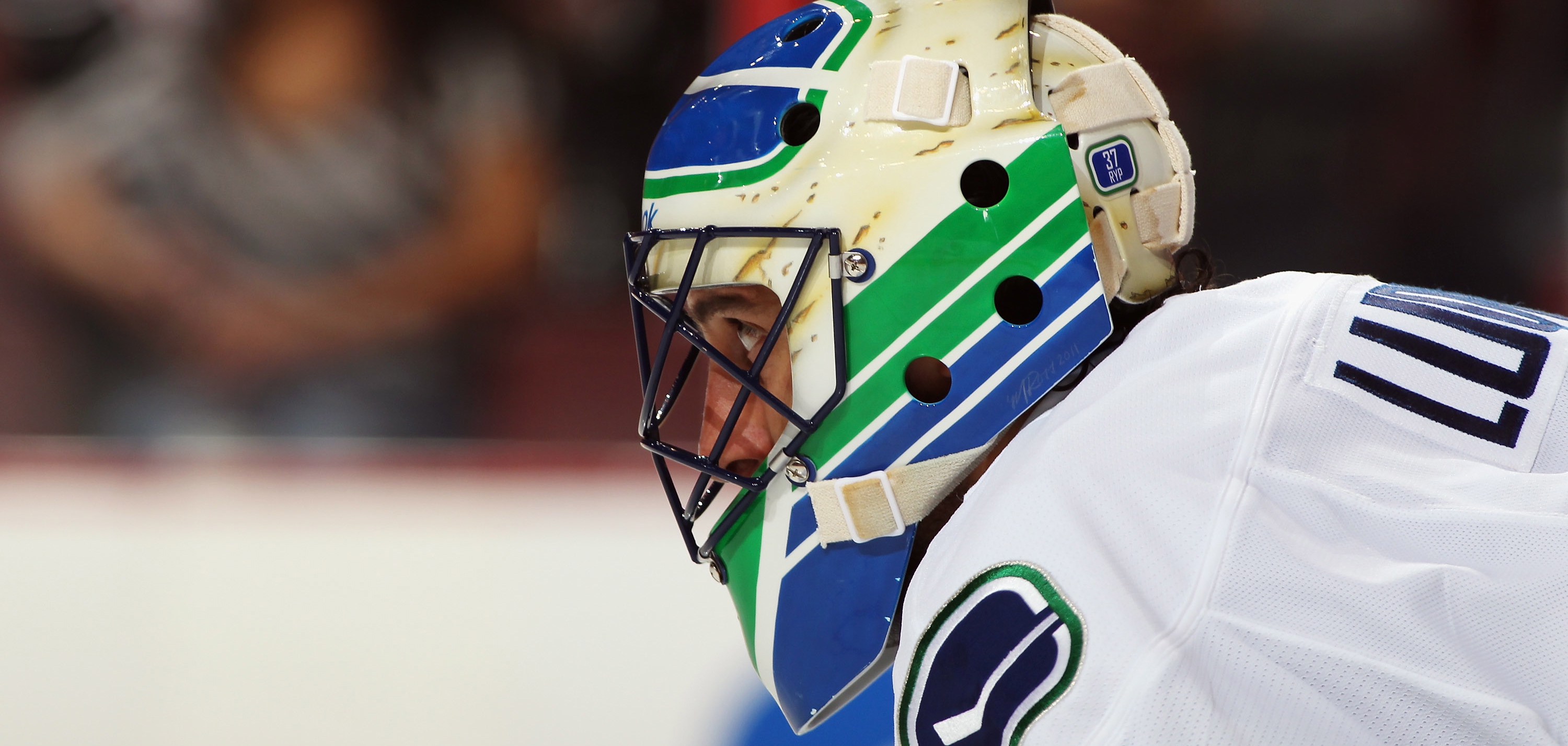 Pucks and Numbers: a weekly statistical look at what's happening around the NHL. This week: the "slow" starts for Vancouver's Roberto Luongo and Washington's Alex Ovechkin
By: Adam Gretz
In news that is
sure to calm the chaos
surrounding the Vancouver
Canucks
and their starting goaltender, Roberto Luongo, the three-time All-Star was pulled during the second period of their 3-2 loss to the Edmonton
Oilers
on Tuesday night after surrounding three goals on 14 shots. Panic!
Luongo, of course, has been under intense scrutiny, as he always seems to be in Vancouver, and it's reached the point that the local press
is writing editorials proposing trades
, much to the chagrin of general manager Mike Gillis. Imagine what it would be like if this team wasn't one win away from owning the Stanley Cup just a few months ago.
There is no way to deny that it's been a bad month for Luongo, as his .868 save percentage through his first six starts is near the bottom of the NHL. But he's not going to stay this bad, and it shouldn't be a surprise that he's struggled in the month of October. Throughout his career Luongo has been a slow starter (and at times slow finisher) and plays lights out during the months in between. He's basically a goaltending bell curve.
Let's take a look at his save percentages, by month, for his career and the past few seasons.
Roberto Luongo: Month-by-Month
Month
Career
2010-11
2009-10
2008-09
2007-08
October
.914
.907
.902
.902
.903
November
.916
.914
.921
.959
.940
December
.923
.922
.932
Injured
.942
January
.921
.947
.922
.876
.908
February
.923
.923
.915
.914
.919
March
.920
.942
.902
.930
.909
April
.904
.961
.867
.918
.820
If you're of the opinion that Luongo can't win when it counts, maybe his decreased production in April, which has carried over to the playoffs at various times in recent years, simply reinforces that belief. But a slow start is nothing new. And while this one has been worse than some of his recent ones, he's eventually going to rebound. Over the past six years Luongo has been one of the best goaltenders in the league when it comes to even-strength save percentage, and even finished second in two of the past three years. He didn't suddenly lose that ability. At least not yet. He's going to play better, so let's calm down with the trade talk and suggestions of starting
Cory Schneider
, Vancouver, because it's not going to happen. And it shouldn't happen.
Ovechkin's start not unlike his previous starts … sort of
Speaking of great players that are off to "slow" starts, Washington
Capitals
forward Alex Ovechkin has three goals and four assists through his first seven games of the season. For most players, a point-per-game average at any point of the season is a cause for praise and celebration; for a former scoring champion and two-time MVP it's started conversation as to whether or not
we've already seen
his best days as an NHL scorer.
(Actually, that may not be entirely out of the question at this point, as most players see their peak performance come
somewhere around the age of 25 or 26
. Of course, that doesn't mean Ovechkin is destined to become an average player or that his career is going to suddenly fall off a cliff. He's still going to be one of the best and most dominant players in the NHL and a force to reckon with everytime he steps on the ice -- he just may not score 65 goals again.)
But what about his start to this season? Is three goals and four assists through seven games all that out of the ordinary for Ovechkin? No. No it's not. Have a look.
Alex Ovechkin: Production Through Seven Games
Year
Goals
Points
Shots
2011-12
3
7
21
2010-11
4
8
35
2009-10
7
14
55
2008-09
2
4
37
2007-08
4
6
36
2006-07
4
7
46
2005-06
4
8
28
The biggest difference, obviously, is that his shots on goal are not only way down, but are also the lowest they've ever been through this many games, and that should be a bit of a concern.
The easy suggestion is to simply
shoot more(!)
but that's easier said than done. Everybody wants to get more shots on goal, whether you're a former 60-goal scorer or a third-line grinder. But there's another team out there with highly paid professionals doing their best to prevent that from happening. Tarik El-Bashir of the
Washington Post
wrote about Ovechkin's start last week and pointed out how the Capitals are trying --and have been trying -- to get him to become less predictable on the attack,
and how other teams have been defending his usual rush of cutting to the high slot.
Maybe "the book" is out on him, and maybe he hasn't adjusted to it yet, but this slow start looks pretty similar to every other start he's had throughout his career, at least as far as his production is concerned, even with the fewer shots on goal (something that's been on the decline in recent years,
as Neil Greenberg recently pointed out
). Whether or not that's sustainable over the course of the season remains to be seen.
Photo: Getty Images
For more hockey news, rumors and analysis, follow @EyeOnHockey and @agretz on Twitter.