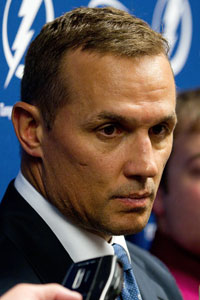 Yzerman led Canada to gold in 2010. (Getty Images)
Things went so well the first time with Steve Yzerman at the helm, Hockey Canada is going back to the well and the Lightning GM for another go.
Yzerman, who was the man in charge of Canada's gold-medal winning team at the 2010 Olympics Games was bestowed the right to do it again for the 2014 Games. It's up to him (and his large staff) to assemble the team that will compete at the Games in Sochi.
Joining Yzerman on the Hockey Canada contingent will be Blue GM Doug Armstrong, Red Wings GM Ken Holland, Oilers GM Kevin Lowe and then Hockey Canada executives Bob Nicholson and Brad Pascall.
Lowe will be responsible for handling the GM duties for the upcoming World Championships with Bruins GM Peter Chiarelli and Maple Leafs VP David Nonis assisting.
"I am very pleased with the group that we have assembled to lead us through the next two seasons," Nicholson said. "Steve, Doug, Ken and Kevin provide a great deal of experience gained from their involvement in 2010 and their long-time involvement with our program."
The question remains what will the team look like for Yzerman? More to the point, will it include any NHL players? That will be determined with the upcoming round of CBA negotiations because right now it's no guarantee. Don't expect the owners to be happy about it, but it should be a point that will be conceded. The players all enjoy the prospect of playing for their nation at the Olympics.
Either way, it's going to be up to Canada's latest golden boy to repeat the feat and hold the gold.
"I would like to thank Bob Nicholson and Hockey Canada for the opportunity to return to this role of executive director," said Yzerman. "While winning in Vancouver was something unique and extraordinary, I am as excited about taking on another great challenge. I look forward to working with Doug, Ken, Kevin, Peter and Dave and the Hockey Canada staff to put a plan in place to bring Canada success internationally."
The contingent that will head USA Hockey has yet to be announced.
For more hockey news, rumors and analysis, follow @EyeOnHockey and @BrianStubitsNHL on Twitter and like us on Facebook.