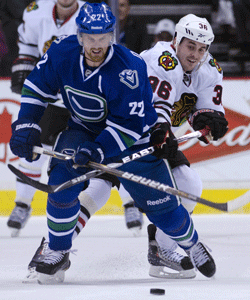 If you are looking for drawbacks in the NHL's realignment plan -- you likely aren't, most people found enough of those -- then here's one for ya. The death blow to the non-traditional rivalry that is the Chicago Blackhawks and Vancouver Canucks.
Playoff familiarity has bred a lot of contempt between these two teams. So much that I don't think it's exaggeration for one team to call the other their biggest rival in the sport right now. Sure, the Blackhawks have the Red Wings and the Canucks have, well, all of Canada, but no relationship seems to have the vitriol that this one is harboring at the moment.
Despite the fact that the two teams haven't played each other since Nov. 16 and won't play again until Jan. 31, they are still chirping away.
Blackhawks forward Dave Bolland is the man responsible for getting this fire burning once again when he joined WGN radio with Chicago goalie Corey Crawford on Tuesday night. He then proceeded to become the first person in the history of ever to refer to twins Daniel Sedin and Henrik Sedin as the "Sedin Sisters." OK, he was actually the second person on the show to say it, parroting the remarks of the show's host Dave Kaplan (full audio here).
Bolland was then asked if he would still call the Sedins sisters if they ever became Blackhawks. Bolland's response?
"Well, they'll never become 'Hawks," Bolland said. "I don't think we'd let them on our team. That'd probably be one thing. We'd be sure not to let them on our team. And, yeah, they probably still would be sisters. I think they might sleep in, like, bunk beds. The older one has the bottom one, the younger one's got the top."
But he didn't end his verbal assault on Vancouver there. No, he continued, this time branching out to the entire city. From the Vancouver Sun:
Bolland also talked about Canucks fans. Kaplan asked Bolland what Blackhawks players do in their spare time when on the road. Bolland mentioned that he tries not to venture too far from his hotel room when he has to play the Canucks at Rogers Arena.

"There's a lot of weirdos there," said Bolland of Vancouver. "You don't want to be out there too long."

A young fan asked Bolland, "Do you hate everyone on the Canucks, or just a lot of them?"

"I hate of all of them," said the Blackhawks forward.
Of course, it wouldn't be a full story without the Canucks retort. I'll give you one guess as to who was the player from Vancouver to issue a response, and you know it wasn't one of the Sedins.
That's right, it was Kevin Bieksa, the very vocal defenseman who seems to be the team spokesman in situations like this. He was equally stinging of Bolland.
"If it wasn't for the twins, I don't think anyone would hear about Dave Bolland," Bieksa said on Wednesday. "If he doesn't want them on his team, he's crazy. But it's probably b/c he'd be out of a roster spot."
Heck, even the coach is getting in on the action. You know it's getting interesting when that happens.
"When you have comments like Bolland, obviously an individual who's IQ is the size of a bird seed and a face only a mother can look at," Canucks coach Alain Vigneault said.
Now that is an original put down. Much better than the tried and clearly not true sisters line.
But don't think for one second that Bolland didn't know what he was doing. He knew full well what the ramifications of what he was saying would be. He didn't care.
He also seemed to be pandering to the crowd. It was a bit reminiscent of a wrestler being purposely outrageous to give the fans what they want. To draw a parallel to competitive sports, it was more like a booster pep rally for a college football or basketball team. If he was trying to bait the Canucks, it worked.
Figures that just when this rivalry is getting really good, they are going to only have two guaranteed meetings starting next season. Of course, if they meet in the semifinals or even Stanley Cup Final, depending how the playoffs will work, there will be that much more juice on the line.
Photo: Getty Images
For more hockey news, rumors and analysis, follow @EyeOnHockey and @BrianStubitsNHL on Twitter.