By: Adam Gretz
Pucks and Numbers: a weekly statistical look at what's happening around the NHL. This week: A look at the importance of Kris Letang to the Penguins' postseason chances.
When it was announced on Tuesday afternoon that
Sidney Crosby
has been cleared for contact, the next major step in his latest attempt return to the lineup, it sent a wave of excitement and optimism through the Penguins fan base.
It's not hard to see why. He is, after all, their captain, their best player, and the best player in the league when he's healthy. With him in the lineup the Penguins should go from being a Stanley Cup contender to, perhaps, one of the top two or three favorites -- if not
the
favorite -- in the NHL ... if their lineup remains intact.
His return, whenever it happens (it apparently won't be before Sunday's game against Boston) will certainly have a significant impact on their chances. But, and as crazy as this may sound, there is still another player they are currently without that may be even more important for any sort of Stanley Cup run in Pittsburgh -- defenseman Kris Letang, who is currently out of the lineup after being hit by
Eric Nystrom
of the Dallas
Stars
at the end of February.
It's the second time this year he's missed time with a head injury, missing over 20 games with a concussion earlier this season after he was hit by Montreal's
Max Pacioretty
.
The Penguins have been without Crosby, minus the eight games he played earlier this season, since the beginning of last January, which is over a full calendar year and nearly a season-and-a-half worth of games, and they have still managed to be one of the top teams in the NHL.
In 65 games this season they are the third-highest scoring team in the league (in terms of goals per game) and have the second most points in the Eastern Conference, trailing only the Atlantic Division-leading New York
Rangers
. It's a testament to the depth they've acquired over the years and the 1-2 punch they still have down the middle at center with
Evgeni Malkin
(arguably the best player in hockey right now) and
Jordan Staal
, a duo that few teams in the NHL can match up with.
Even without Crosby they still have another No. 1 center, a darn good No. 2 center, and a pretty potent offense overall. One of the best in the league.
What they don't have without Letang is another No. 1 defenseman, and that's a pretty glaring weakness to have on a potential Stanley Cup team. Their blue line takes on an entirely different look without him, and it simply isn't anywhere near as effective. Just looking at the raw numbers this season: with Letang in the lineup the Penguins are 25-10-5, average over 3.2 goals per game, only allow 2.4 and have a total goal-differential of plus-31.
Without him those numbers drop down to a 14-11-0 record, 2.68 goals for per game, 2.56 against and a total goal differential of just plus-3.
Is Letang by himself worth that entire difference? Well, not exactly, because the Penguins have had other players out of the lineup at various times, but his absence is still huge given the number of roles he's asked to play, and the way he's able to perform within them.
He plays over 25 minutes a night, he is their power play quarterback, a regular on the penalty kill, and during even-strength situations he takes on some of toughest assignments on the Penguins defense, as the scatterplot below, which uses Corsi Relative Quality of Competition and Offensive Zone starts, helps to illustrate. The closer to the top left (meaning tougher opponents and fewer offensive zone starts) the more difficult the assignments, and the closer to the bottom right the "softer" the assignments.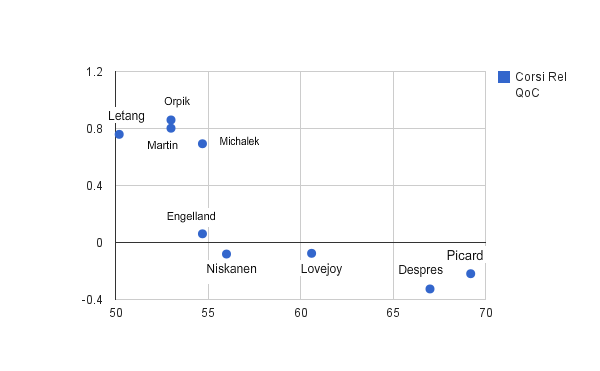 As you can see, the Penguins have a pretty set group of top-four defensemen that stand out from the pack when it comes to their 5-on-5 assignments with Letang,
Paul Martin
,
Brooks Orpik
and
Zbynek Michalek
. Everybody else that's played on their blue line this season has been relatively protected. And when Letang is out of the lineup, as he's been for 25 games and counting this season, one of those other players has to step into a top-four role, and the results aren't always pretty.
Letang not only draws some of the toughest assignments on their blue line, he also outperforms everybody else. He has a positive Relative Corsi rating (a sign that when he's on the ice the Penguins are controlling the puck far more than they are when he's not on the ice) and he is by far their leading scorer on the blue line despite appearing in just 40 games. Orpik is a great physical presence on the blue line, and Martin hasn't been anywhere near as bad as his many critics in Pittsburgh want you to believe that he's been, but none of them are as valuable to the Penguins blue line as Letang.
His ability to get the puck out of danger, lead the rush and control the game is unmatched by any other player on their defense.
Crosby's return will be huge news, and it will give the Penguins pretty obscene depth down the middle. But the return of Letang is what would potentially put the the Penguins over the top, on paper anyway.
I'm still convinced they could win without Crosby due to the presence of Malkin and Staal at center. I'm not convinced they can win without Letang (even with Crosby) because they have nobody else that can fill his skates on defense.
(Corsi, Quality of Competition and Zone Start Data all via BehindtheNet.ca)For more hockey news, rumors and analysis, follow @EyeOnHockey and @agretz on Twitter and like us on Facebook.