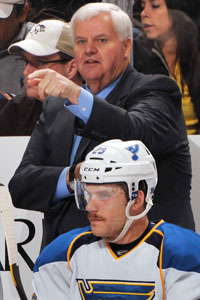 Hitchcock has pointed St. Louis in the right direction at each and every turn. (Getty Images)
Welcome to Award Races. For every week the remainder of the season, we will break down two of the awards races at a time and see how they are stacking up as the NHL season hits the home stretch.
When it comes to coaches, it feels like nearly half lost their jobs at some point this season. Truth is, it's actually one shy of a 1/3, which is still an astronomically high number.
The ones that have stuck around? It seems like they are all in the conversation for coach of the year.
However it's the guy who came in after the season started that is running away with the Jack Adams Award for the top coach. Like his style or not,
Ken Hitchcock has pretty much been a miracle worker since coming into St. Louis just 13 games through the season. What has he done since? Only put the Blues in the mix of about four teams vying for the Presidents' Trophy. As it stands on Thursday, the Blues are the West's top team and tied with the Rangers for the best point total in the league. Not too shabby.
While I see him as a clear front-runner, I'm not sure everybody feels the same. And that's where the Jack Adams conversation gets interesting. The list of coaches who could be considered is about 10 guys long. Paul MacLean will be on everybody's finalist list with what he has down in Ottawa. You can see the rest of my top 5 below. What you don't see is the guys who didn't make the cut and it's a hell of a group. Dan Byslma, Barry Trotz, Mike Babcock, Kevin Dineen and Dave Tippett deserve mentions too.
When looking at the general managers, the architects, I think we have a much more defined group we're looking at. The nature of an award like this is that it's sometimes tough to gauge. If I were to pick the best GM in the game I might go with Peter Chiarelli, Ray Shero or Mike Gillis. They have put together great teams over multiple years. But in just a one-year sense? It cuts it down.
So how do you not start with Dale Tallon in Florida? The Panthers have already eclipsed their point total from last season and they still have 17 games to go. While it's no guarantee yet, they do seem to be on their way to making the playoffs for the first time in more than a decade.
And that's after going into the summer with hardly anybody on the roster. He went out and acquired nine players between the draft and the first few days of free agency. That's almost half the team! He continued by making a few trades including shipping David Booth to Vancouver. All the while he has done nothing to disrupt what looks to be a very promising future with a loaded farm system.
So here you go, this week's rankings. Remember, these are just one man's opinion and you can feel free to share yours below, I'm sure you will. As always, the rest of the races are below with a quick update.
Award watch
Jack Adams
GM
Ken Hitchcock
The Blues are 36-11-7 since he took over. All I have for that is Wow! He has helped make a borderline playoff team to a borderline Stanley Cup team. How can there really be any other choice?
Dale Tallon
Consider the monumental task it has proven to win in South Florida then consider that Tallon basically built a new team that is winning in one year. He was widely criticized for his team building this summer and while he did overpay for some players, it's tough to argue with the results so far.
Paul MacLean
Bonus points for the mustache that makes Wilford Brimley blush. The majority of publications/panels had the Senators finishing dead last in the league this season. Oops. The difference between MacLean and Cory Clouston has been pretty clear and the players have responded, especially Erik Karlsson.
David Poile
Maybe this one is tough until the offseason when we find out the fates of Ryan Suter and Shea Weber, but Poile has done all he could to show the Predators are in it to win it. The re-signing of Pekka Rinne, the acquisitions at the trade deadline all while on a low budget. He's usually in this conversation and he is again.
John Tortorella
Yes, the Rangers are good and that's not a great surprise. This good, however? Yes, I think that's surprising. Players have really bought in to what Tortorella is doing. Perhaps the sign of a good coach is how much the team takes on the coach's personality/style. Nobody has done better at that than Torts and Hitchcock.
Don Maloney
This was another team left for dead before the season began but as I write this, the Coyotes are currently seventh in the West and two points out of the Pacific Division lead. He has had so many obstacles to go through but has continued to bring in good guys and build a winner on a budget.
Peter DeBoer
I feel like the Devils first-year coach is under the radar in this conversation, but why should he be? The Devils floundered last season and without changing a whole lot have been significantly better this time around. DeBoer definitely deserves some credit for Ilya Kovalchuk's evolution to a complete player, too.
Doug Armstrong
Brian Elliott on a two-way contract? Replacing Davis Payne with Hitchcock before anybody else could? Sneaky additions of Jason Arnott and Jamie Langenbrunner? That's not a bad year, then add in that he's locked in many of his young core players. Hitchcock deserves a lot of attention for the Blues' success, but so does Armstrong.
Glen Gulutzan
This was one hiring in the offseason that made people say "who?" but it has worked well. Despite the departure of Brad Richard and his offensive output, the Stars are in better position this season. In fact, they lead the Pacific Division. For a guy who is two seasons removed from coaching in the ECHL, that ain't bad.
Glen Sather
The headline grabber was obviously the addition of Richards this summer, but locking in his younger players might have been the better move. Plus, he has presided over a franchise that has stocked the shelves for the future, just look at the Columbus Blue Jackets' wish list for Rick Nash, a trade that didn't happen.
And for a quick look at the rest of the races we'll be checking in on every week.
Hart: Evgeni Malkin, Steven Stamkos, Henrik Lundqvist
Vezina: Henrik Lundqvist, Jonathan Quick, Brian Elliott
Norris: Erik Karlsson, Shea Weber, Nicklas Lidstrom
Selke: Patrice Bergeron, Ryan Kesler, David Backes
Calder: Gabriel Landeskog, Adam Henrique, Ryan Nugent-Hopkins
For more hockey news, rumors and analysis, follow @EyeOnHockey and @BrianStubitsNHL on Twitter.