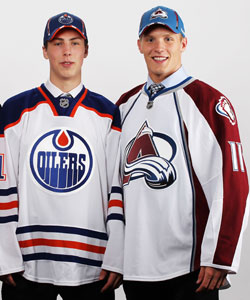 The top two draft picks are in it. (Getty Images)
Welcome to Award Races. For every week the remainder of the season, we will break down two of the awards races at a time and see how they are stacking up as the NHL season hits the home stretch.
We began our Award Races last week by looking at -- in my opinion -- the two most prestigious in the Hart Trophy and the Vezina. One of those races (Vezina) has a clear front-runner then a tight fight for runner-up. The other (Hart) is very tight and will be a battle to the end.
That seems to be what we're talking about this week too, only with the Norris Trophy and Calder. Let's start with the Norris.
At this point, Erik Karlsson seems like a shoe-in for the award. He has taken the points lead and laughed at the rest of the league's defensemen, doing circles around them. He's 23 points ahead of the second highest-scoring defenseman, Brian Campbell. Seriously, he's tied with Henrik Sedin and Joffrey Lupul for sixth in points among all skaters.
Part of the equation that goes into the Norris obviously is how good you are on defense too, it can't be all about offense. But maybe this time it can be, when a guy is just that much more dominant in that regard than the rest of the field. And it's not like Karlsson is completely defenseless. He might not be as good in his own zone as some of the others on this list, but he's responsible enough to garner more than 25 minutes a game in ice time.
So that one is pretty clear. The Calder going to the top rookie? Now this is a race.
At the midpoint of the season it seemed like it was in the bag for last year's No. 1 overall draft pick Ryan Nugent-Hopkins to take the award. Well he's still in the conversation, but he's been joined by others ... and overtaken.
The comments on the second overall pick Gabriel Landeskog's scouting report were promising for instant production. He was seen by most everybody as the most NHL-read prospect in the draft. He has good size already and is a mature player. So his ceiling wasn't believed to be incredibly high, the production was thought to be very good and consistent.
It might have taken him a little while, but now he's showing all of that. Check this out: With the Avalanche making a move to get back into the heart of the playoff race, Landeskog has been great of late. In the last five games he has four goals and four assists while averaging close to 20 minutes a night. Not bad for your first playoff race.
But he has some stiff competition that isn't far behind him at all.
Remember, this is just one man's opinion and there are sure to be disagreements. Feel free to share your thoughts (I know you won't disappoint there).
Award watch
Norris
Calder
Erik Karlsson
The Ottawa Senators have been the biggest surprise this season and Karlsson has been the biggest surprise for them. In addition to lapping the field in total points, he's also first among defensemen with 15 goals. The offense is just too overwhelming to ignore in his case.
Gabriel Landeskog
Knowing full well it is not the be-all, end-all of stats in hockey, especially today when advanced metrics are becoming more prevalent, but Landeskog has an impressive plus-22 on the season. That's 13th best in the league. Note: The Avs as a team are minus-5 this season. That has to say something.
Shea Weber
Arguably the top all-around defenseman in the game, Weber is a perennial contender for this award, especially as long as he remains in Nashville with Barry Trotz. He's physical and responsible in his own end, explosive and dangerous in the offensive end. There's a reason (lots of them) teams would like to see him in free agency.
Adam Henrique
He exploded on the scene earlier this season playing with Ilya Kovalchuk and Zach Parise in what became one of the better lines in the entire league. But he has cooled down, scoring just two goals and racking up five assists since Jan. 11. His slip combined with Landeskog's surge puts him here.
Nicklas Lidstrom
The 41-year-old has won this award seven times. At age 41, he's going to be hard pressed to win an eighth, but that doesn't mean he isn't having a heck of a season. He's still a huge part of what the Red Wings do and is a quintessential two-way defenseman. It's hard to believe he's his age with how he plays.
Ryan Nugent-Hopkins
Injuries have derailed his hopes here, to be sure. Points-per-game wise, he's the best among rookies with 15 goals and 23 assists in 43 games. But the fact that he played one game in January and then missed a few weeks in the middle of February has hurt his chances. He has come back with two goals and an assist in the last three, though.
Brian Campbell
Without Campbell, there's no telling where Florida would be in the standings. He was the big acquisition of the summer by Dale Tallon and he's found his comfort zone after a scrutinizing time in Chicago. He is second among dmen in points and routinely plays close to 30 minutes a game for the Panthers.
Matt Read
Of all the rookies playing in Philadelphia this season -- and there are a lot -- Read has been the best, and probably the most surprising. The 25-year-old has 16 goals with 19 assists playing multiple roles for the Flyers. He also has only four minor penalties on the season with no majors. That counts for something.
Ryan Suter
Still a bit overshadowed by his teammate Weber in Nashville, Suter is obviously no slouch. He'll be the most coveted free agent this summer if the Predators can't re-sign him. Like Weber he's a good two-way player who isn't as threatening in the offensive zone but can score. He has seven goals and 30 assists.
Cody Hodgson
He could be a dark horse in this race with his recent trade to the Sabres. In Vancouver he wasn't getting a lot of ice time being stuck between Henrik Sedin and Ryan Kesler but being in Buffalo could give him a shot to flourish. He has a good starting point with 16 goals and 17 assists despite averaging just 12:44 of ice time per game for the Canucks.
And for a quick look at the rest of the races we'll be checking in on every week.
Hart: Evgeni Malkin, Henrik Lundqvist, Claude Giroux
Vezina: Henrik Lundqvist, Jonathan Quick, Brian Elliott
Jack Adams: Ken Hitchcock, Paul MacLean, John Tortorella
Selke: Patrice Bergeron, Ryan Kesler, Pavel Datsyuk
Top GM: Dale Tallon, Don Maloney, David Poile
For more hockey news, rumors and analysis, follow @EyeOnHockey and @BrianStubitsNHL on Twitter.