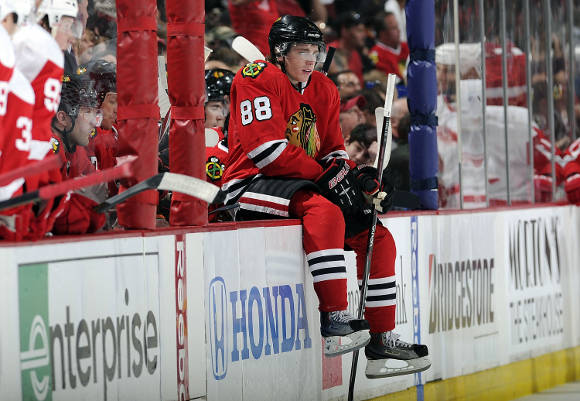 WHO CAN CLINCH:
The Chicago
Blackhawks
left the Dallas
Stars
plenty of room to seize the final playoff spot in the Western Conference.
The 'Hawks trailed throughout their nationally televised finale against the Detroit
Red Wings
, a team that had clinched a playoff spot several days ago but looked to avoid a skid heading into the postseason. Chicago pulled within a goal midway through the third period on a
Duncan Keith
tally, but was unable to take advantage of two Red Wings penalties over the closing five minutes as Detroit seized a 4-3 victory at the United Center on Sunday.
Now, it will be up to the Dallas Stars. A victory tonight over the Minnesota
Wild
in regulation or overtime will allow the Stars to clinch league's final playoff spot. Afterward, they can thank Columbus
Blue Jackets
GM Scott Howson, who pushed for the tiebreaker rule change last offseason. Had the first tiebreaker remained all wins -- including in the shootout -- the Blackhawks would have already clinched a berth.
The Stars, with any sort of victory that doesn't come via a shootout, would match the Blackhawks regulation and overtime wins (38) -- the new tiebreaker -- and the Stars would get the nod in the second, a better head-to-head record.
That would also mean the Chicago Blackhawks the first teams since the 2006-07 Carolina
Hurricanes
to miss the playoffs a season after winning the Stanley Cup.
ALREADY IN:
Vancouver, Montreal, Nashville, Los Angeles, Phoenix, Anaheim, Buffalo, Pittsburgh, Boston, Philadelphia, San Jose, Tampa Bay, Detroit, New York
Rangers
and Washington.
GAME OF THE NIGHT: Dallas Stars (42-28-11) at Minnesota Wild (38-35-8), 6 p.m. ET, NHL Network
The Dallas Stars have won all three meetings and the only close game was a 4-3 decision on Dec. 4. The Stars got the help they needed from Detroit, so now the Pacific Division has a chance to become the first to get all of its teams into the playoffs.
"We definitely want to finish out strong no matter what, but I would be lying if I said the Chicago game won't have a bearing on our game,'' said Stars forward
Jamie Langenbrunner
told
Mike Heika of The Dallas Morning News
. ``Honestly, it means everything. We want to be playing for the playoffs.''
Another thing that will be interesting to watch is if the game reaches overtime. As mentioned above, a shootout win does the Stars no good. So, could we see Dallas goalie
Kari Lehtonen
pulled for an extra attacker at some point in OT?
GOLF WATCH:
Either Chicago or Dallas will be heading to the course. (See above). Calgary, Carolina, Toronto, Atlanta, St. Louis, New Jersey, Minnesota, Ottawa, Florida, New York
Islanders
, Columbus, Colorado and Edmonton are already mathematically eliminated.
-- A.J. Perez
Photo: Getty Images