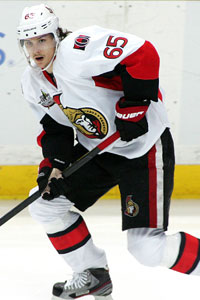 By: Adam GretzPucks and Numbers: a weekly statistical look at what's happening around the NHL. This week: A look at offensive production of Ottawa Senators defenseman Erik Karlsson
With less than two months to play in the regular season the Ottawa Senators find themselves in a position that probably not even the most optimistic of their fans expected them to be when the season began back in October.
As of Tuesday afternoon, and following their 6-0 win over the New York
Islanders
on Monday, the Senators are in the seventh spot in the Eastern Conference with a six-point lead over the first non-playoff team. The playoffs look to be a very real possibility --if not likely at this point -- for a team that was projected by most to be one of the worst teams in the league over the summer.
It's a pretty good position to be in, and one of the driving forces behind their success has been the play of third-year defenseman Erik Karlsson, their first-round pick from the 2008 draft.
After a dominant two-goal, four-point performance on Monday afternoon against the Islanders, Karlsson currently sits atop the NHL leaderboard for scoring among defenseman with 57 points. That's 17 points more than the second-leading scorer, Florida's
Brian Campbell
. To look at it another way, the gap between Karlsson and Campbell from first to second is as big as the gap between Campbell and Florida's
Jason Garrison
, who is currently 38th in scoring among defenseman (23 points). And that's pretty amazing.
On his current pace of nearly a point-per-game, Karlsson would finish the regular season with 76 points, which is probably about as good as you can expect in the NHL these days from a defenseman. It's going to take him just 13 points over his final 21 games ( or an average .61 points per game, which is well below his current pace of .96 points per game for the season) to reach the 70-point mark, which would make him just the fifth different defenseman to reach that level over the past 14 seasons.
Nicklas Lidstrom
did it four times over that stretch.
Mike Green
did it twice. Sergei Zubov and Brian Leetch each did it once.
His performance this season is starting to attach his name to the Norris Trophy discussion (as
Sportsnet's Ian Mendes
and Justin Bourne
of the Score both argued on Tuesday), which is sure to have it's share of detractors.
Think back to when Green, the
Capitals
super-skilled and extremely productive defenseman, was a finalist for the Norris in back-to-back years during the '08-09 and '09-10 seasons with offensive seasons that were near mirror images of what Karlsson is currently doing for Ottawa. It was always polarizing because his shortcomings defensively were always pointed out and magnified, along with some variation of the comment,
"well, he's basically a fourth-forward when he's on the ice."
Or something along those lines.
Keep in mind, though, that the Norris Trophy doesn't (or isn't supposed to) go to the best "defensive defenseman." It's supposed to go to the player that demonstrates "the best all-around ability in the position."
That, of course, includes offensive ability, and that's something that Karlsson clearly has, and at a very young age. And it's not like he's a poor defensive player at this point in his career, either.
Karlsson is already logging a team-high 25 minutes of ice-time per game for the Senators, nearly two full minutes more than the second defenseman, and when he is on the ice the Senators tend to have the upper hand when it comes to possession and keeping the puck in the offensive zone. Among defensemen that have played at least 50 games this season (or players that we would consider for the Norris Trophy) Karlsson currently has the best
Relative Corsi rating in the NHL 13.8
. Corsi, if you're not familiar with it, is simply the total shot-differential at even-strength (goals, saves, missed shots, blocked shots) when a player is on the ice, which gives a pretty good indication of which players and teams are controlling possession of the puck the most. And that's pretty valuable, because the best way to keep the other team from scoring is to keep them pinned in their own zone, and Karlsson has been as good at that as any other defenseman in the league this year.
Now, Karlsson does have a bit of an advantage over some of the players he's ahead of that are also legitimate Norris candidates, if not favorites, (such as Nashville'
Shea Weber
and Boston's
Zdeno Chara
).
The Senators do protect him a bit defensively by not asking him to start many shifts in his own zone (his offensive zone-start percentage is currently over 56 percent). He also isn't asked to kill penalties all that much, and spends a great deal of time on the power play. But even if you look at just his even-strength points (35) he's still crushing the rest of the defensemen in the league in scoring (the No. 2 defenseman in even-strength scoring is
Kevin Bieksa
, with 25 points).
No matter how you look at it, he's having an incredible season and has clearly been Ottawa's best defenseman, if not its best overall player, and is one of the biggest reasons the team has exceeded almost every expectation.
I don't know if that's enough to get him serious Norris consideration at this point as the names Chara, Weber and Lidstrom still carry enough clout (and are pretty darn good players as well) to make it difficult for him to crack the top-three.
That doesn't mean he isn't deserving.
(Corsi and Zone Start numbers via BehindTheNet.ca)
For more hockey news, rumors and analysis, follow @EyeOnHockey and @agretz on Twitter.